Introduction
The YB-29 was a service test aircraft, meaning that it was used to test the performance and capabilities of the aircraft in a service environment, rather than being an experimental prototype. This was the usual process at the time, with experimental prototypes being designated with an "X" and service test aircraft being designated with a "Y."
Before the YB-29, three flyable prototypes were built and tested by Boeing. After the YB-29 models had undergone evaluation in service, production orders for the aircraft would typically be placed. However, in June 1941 the US Army Air Corps (USAAC) simultaneously placed orders for 14 YB-29 service test aircraft and 250 production B-29s.
The B-25 and B-26 medium bombers were also ordered into production without first being tested as service test aircraft. Still, these aircraft did not experience the same level of problems as the B-29 program.
The B-29 was rushed into production and as a result, there was not enough time to address and solve issues that arose during testing. Despite this, most of the problems were eventually resolved, but it came at a high cost in terms of resources and lives.
YB-29 test program
The 14 YB-29s, which were given the designations 41-36954 to 41-36967, were built at a government-owned facility in Wichita, Kansas called Plant 2, while Plant 1, previously owned by Stearman Aircraft, was responsible for building B-29 subassemblies.
The first YB-29 was completed on April 15, 1943, but was grounded until June 26 due to the investigation of the Allen crash.
The YB-29 test program was a collaboration between the Wichita Boeing plant and the Army Air Force, and its goal was to evaluate the aircraft's speed, range, and engines, with a particular focus on their cooling capabilities. Army Air Force pilots flew the bombers according to Boeing's test flight procedures, while the Wichita plant's ground crew, who were familiar with the complex aircraft, maintained them.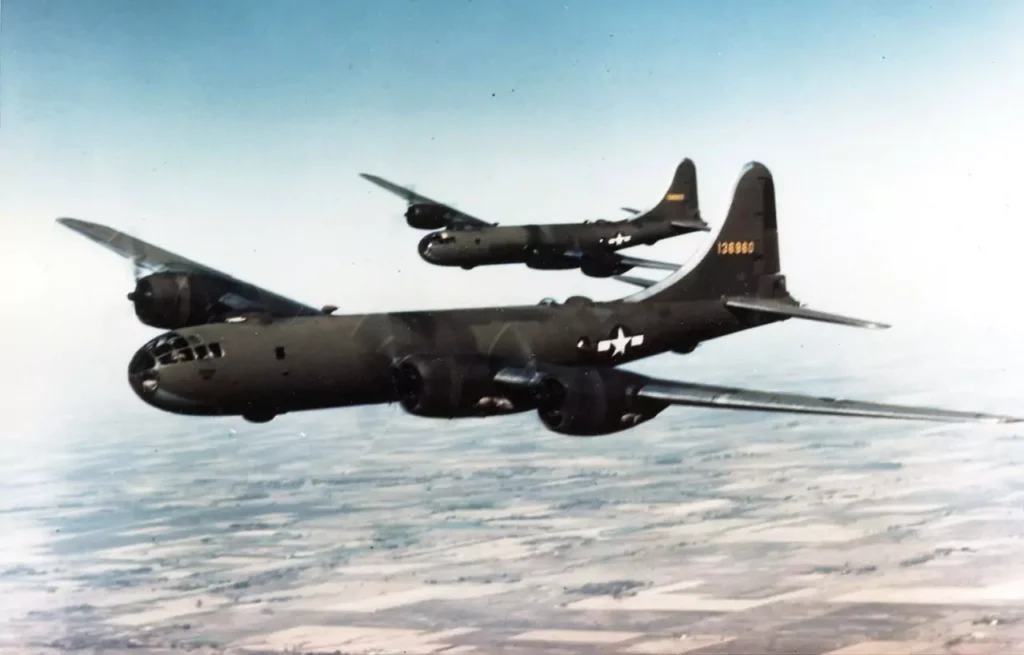 The AAF pilots also trained Boeing flight personnel so that they could fly the bombers once they rolled off the production line.
The initial testing, which lasted for six weeks and involved 24 flights totaling 72 hours of flying time, saw no serious problems or engine failures. Data on aircraft and engine performance, particularly engine cooling, was collected, and takeoffs with a 130,000-pound loading were successfully completed. A notable test flight was a simulated bombing mission covering 3,000 miles and lasting 14 hours, during which a five-ton simulated bomb load was carried.
After the successful completion of the test program, most of the flight testing was handed over to Boeing.
Boeing factory runways in Wichita were too short for high gross weight tests of production bombers. These tests were conducted at an Air Force base in Salina, Kansas, using the ninth YB-29 and four other production bombers. The tests involved taking off with a bomb load, flying over the Gulf of Mexico and across Texas to a bombing range, and returning to Salina. During the tests, issues were found with the engines' exhaust collector rings and rocker arm lubrication, and on two flights, cabin depressurization occurred due to damage to sighting blisters.
In June 1943, the 58th (Very Heavy) Bombardment Wing, the first B-29 combat unit, was established at Marietta, Georgia in preparation for the arrival of the first YB-29s. By July, the USAAF had received seven YB-29s, which were used to equip new training squadrons. Less than one year later B-29 squadrons were flying missions in the Pacific.
Unusual uses of YB-29
There are several accounts of the unusual uses of YB-29 aircraft:
One such aircraft, with serial number 41-36958, was used as a trainer with the 444th Bomb Group before being sent to the Boeing Fortress School in Seattle.
Another YB-29, with serial number 41-36960, was used in a test in Marietta, Georgia to determine if a fully-loaded airframe weighing 120,000 pounds would damage the pavement when towed.
After testing, the YB-29 with serial number 41-36954 was sent to General Motors to have 24-cylinder Allison V-3420-11 liquid-cooled engines installed, and it was subsequently redesignated as the XB-39.
The Allison V-3420 engine was essentially two Allison V-1710 twelve-cylinder liquid-cooled Vee engines connected to a single propeller shaft. At an altitude of 25,000 feet, the engine produced a normal output of 2100 hp. The aircraft's speed increased to 405 mph at 35,000 feet, but the improvements in performance were not deemed sufficient to warrant production.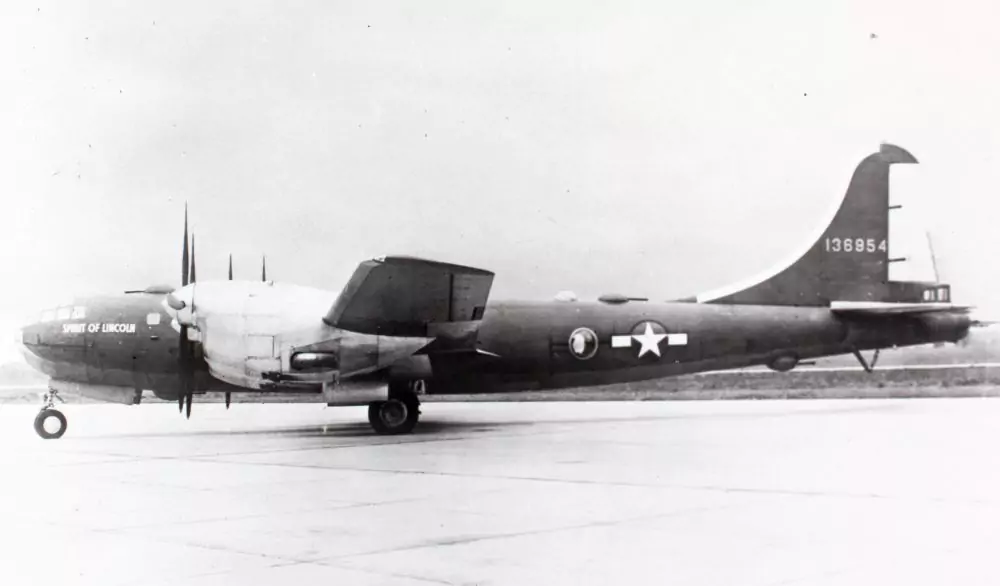 Another YB-29 was modified to carry an additional 10 machine guns for use as a bomber escort.
In January 1944, the YB-29 with serial number 42-36964 was sent to Tinker Field, Oklahoma for use in mock-ups related to XX Bomber Command operations. As part of a secret operation, another YB-29, s/n 42-36963, made a night takeoff from Kansas, flew south over the Atlantic, and then headed north to Gander Field, Newfoundland. From there, it made a non-stop flight at 24,000 feet to England, where it was inspected by Allied leaders. It was later announced that the aircraft did not meet expectations for use as a bomber in the Pacific war and might be used instead as an armed transport. This YB-29, named Hobo Queen, was eventually sent to Kharagpur, India, and assigned to the 462nd BG. It was used as a tanker to ferry fuel over the Hump and was the only YB-29 to see combat.
YB-29 vs XB-29
The YB-29 aircraft were similar in appearance to the XB-29s, but were built to nearly production standards and had most of the planned military systems installed:
They were equipped with three gun sighting blisters and four remotely operated machine gun turrets as part of the General Electric central fire-control system. The YB-29 also had a tail turret equipped with an M2 Type B 20mm cannon and two .50 caliber machine guns.
The engines on the YB-29s were upgraded from the Wright R-3350-13 to the Wright R-3350-21, although they initially retained the original three-bladed propellers from the XB-29s. These were later replaced with four-bladed propellers.
The exterior of the YB-29s was painted Olive Drab on the upper surface and light gull gray on the underside.
The planes did not have astrodomes installed.
YB-29 Specification
Source: Boeing B-29 Superfortress (Crowood Aviation Series) by Steve Pace
| Parameter | Value |
| --- | --- |
| Powerplant | Four Wright Aeronautical R-3350-21 Cyclone 18 radial engines |
| Weights | |
| Empty | 81,620lb (37,020kg) |
| Loaded | 120,500lb (54,660kg) |
| Dimensions | |
| Length | 98ft 2in (29.9m) |
| Wingspan | 141ft 3in (43.1m) |
| Wing area | 1,736sq ft (161.27sq m) |
| Height | 27ft 9in (8.45m) |
| Performance | |
| Maximum speed | 365mph (590km/h) |
| Cruising speed | 250mph (400km/h) |
| Service ceiling | 33,500ft (10,200m) |
| Maximum range | 5,600 miles (9,000km) |
| Maximum bomb load | 20,000lb (9,000kg) |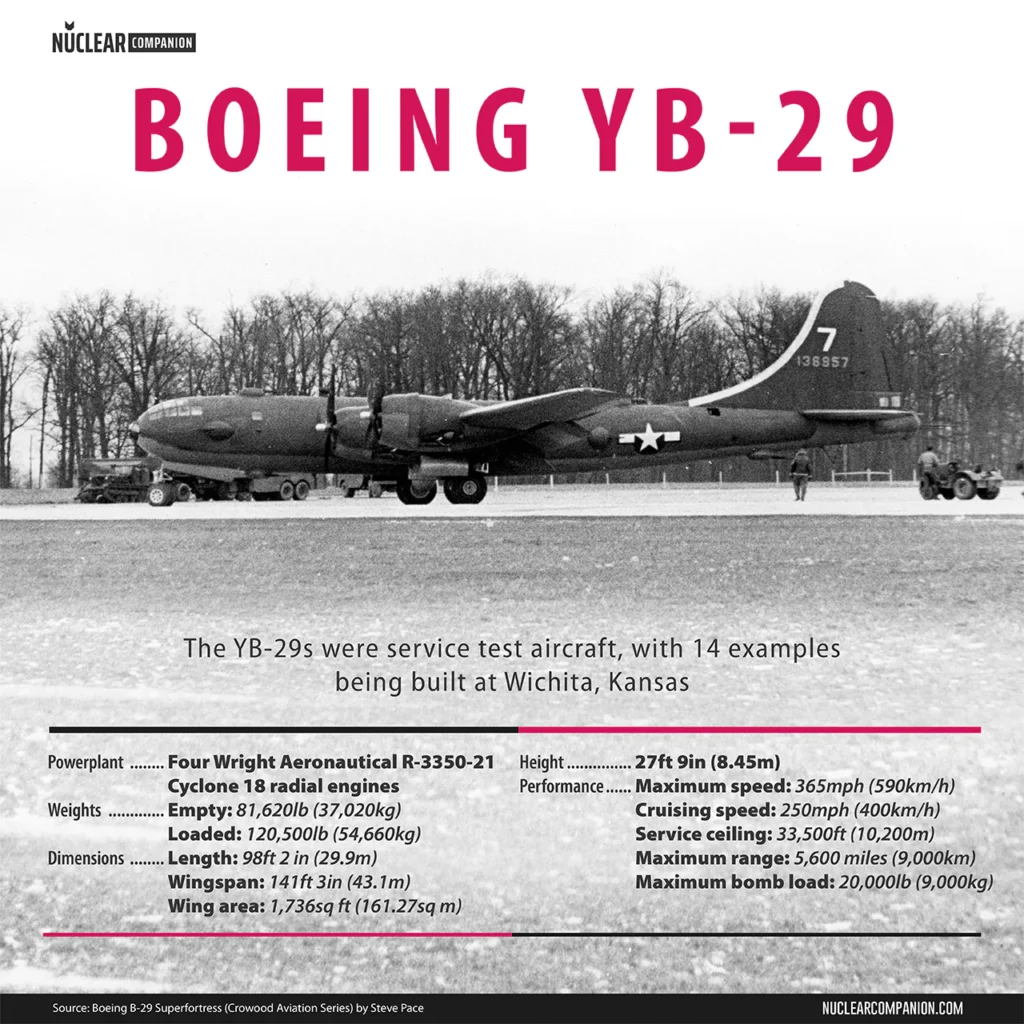 Further reading
Bibliography
Boeing B-29 Superfortress (Crowood Aviation Series) by Steve Pace
B-29 Superfortress in detail & scale, Part 1: Production Version – D&S Vol. 10 by Alwyn T. Lloyd
Boeing B-29 Superfortress: The Ultimate Look: From Drawing Board to VJ-Day by William Wolf