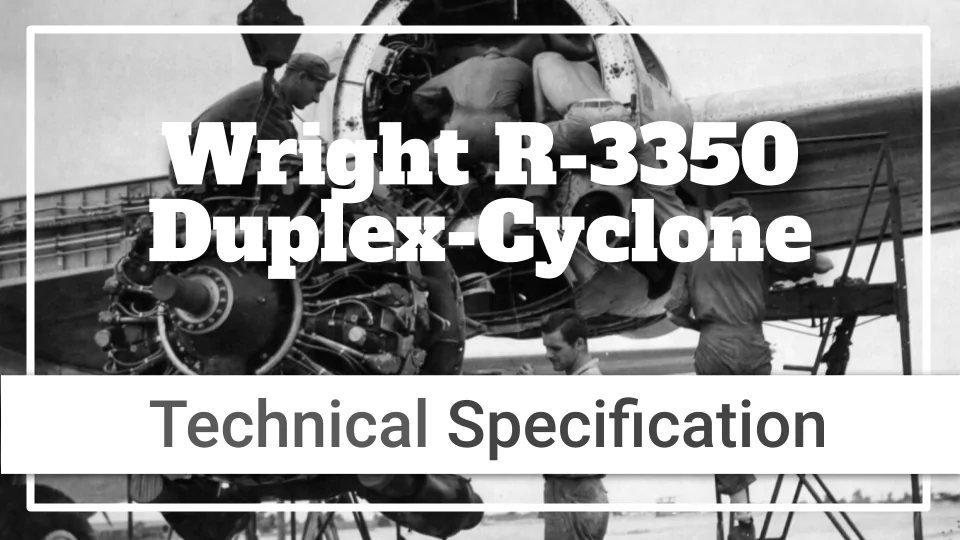 The huge Wright R-3350 Duplex Cyclone was an air-cooled, 2,200-horsepower, twin-row, eighteen-cylinder engine. With a displacement of 3,350 cubic inches, it was one of the most powerful radial aircraft engines produced by the United States. Wright Aeronautical Division of the Curtiss-Wright Company of Paterson, NJ developed it in the '30s before World War 2.
The R-3550 main military application was the Boeing B-29 Superfortress. Due to the war, the US rushed it into combat with severe consequences. After it, the R-3550 remained in production and it was mature enough to bed used in civilian aircraft.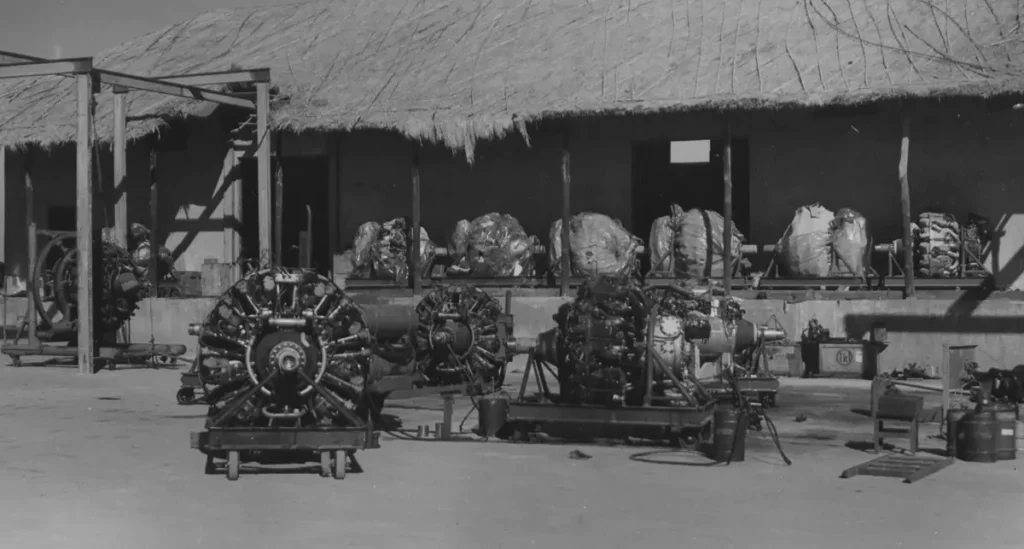 The list of applications includes the Boeing B-29, Consolidated B-32, Lockheed C-69, Boeing C-97, Fairchild C-119, Lockheed C-121, and Douglas A-1 Skyraider.
The main parameters of the R-3350 (-35 variant) were:
| | | |
| --- | --- | --- |
| Military Model | R-3550 -35 | |
| WAD Model | 711C18BA2 (B series) | |
| Type | 18 cylinders, 2-row radial, air-cooled, geared drive, Supercharged, 4-cycle | |
| Construction | 3-piece steel crankcase, Cylinders with steel barrels with W-type aluminum alloy fins and cast aluminum alloy heads, one inlet valve and one exhaust valve (sodium cooled) per cylinder actuated by push rods, 2-throw 3-piece counterbalanced crankshaft supported in 3 roller bearings, Planetary reduction gear, ratio 0.44:1 or 0.56:1 | |
| Supercharger | G.E. Gear-driven, 2-speed supercharger, ratio 6.61:1 and 8.81:1 | |
| Carburation | One Chandler-Evans 58CPB4 variable venturi pressure- type down-draft carburetor with automatic mixture control | |
| Ignition | One Bendix-Scintilla DF18LN-1 dual magneto and one 18-point distributor. Two 28mm long reach spark plugs per cylinder. Shielded ignition system | |
| Lubrication | Pressure feed, 60-70 lb./sq.in. (4,2-4,9 kg/cm2). Dry sump. | |
| Starter | Optional. Eclipse E-160 or 1416 direct cranking or Series 48 inertia and direct cranking, starter | |
| Bore | 6.125 in. | 155 mm |
| Stroke | 6.3125 in. | 160 mm |
| Displacement | 3.347cuin | 54,9 lit |
| Compression Ratio | 6.85:1 | 6,85:1 |
| Diameter | 55.8 in. | 1417 mm |
| Length | 55.8 in. | 1935 mm |
| Frontal area | 17.0 sq.ft. | 1,57 m2 |
| Weight | 2,670 lb. | 1211 kg |
| Weight/hp | 1.21 lb./h.p. | 0,55 kg/hp |
| Fuel consumption (cr) | 0.46 lb./h.p./hr. | 210 g/hp/hr |
| Oil consumption (cr) | 0.020 lb/h.p./hr. | 9 g/hp/hr |
| Gasoline grade | 100/130 octane | 100/130 octane |
| Oil grade (viscosity) | 120 S.U. secs | 25,1 cs |
| Output/displacement | 0.66hp/cuin | 40,1 hp/lit |
| Output/piston area | 4.15 hp/sqin | 0,64 hp/cm2 |
| Piston speed (max.) | 2,946 ft/min | 14,9 m/sec |
| B.m.e.p. (max.) | 187 lb./sq.in. | 13,1 kg/cm2 |
| Rating (take off) | 2,200 h.p./2,800 r.p.m. at sea level | |
| Rating (normal, low) | 2,000 h.p./2,400 r.p.m./4,500 ft. (1 400 m) | |
| Rating (normal, high) | 1,800 h.p./2,400 r.p.m./14,000 ft. (4 300 m) | |
| Rating (cruising) | 1,300 h.p./2,100 r.p.m./no specified altitude | |
| Military | 2,200 h.p./2,600 r.p.m/25,000ft (for maximum of 5 minutes) | |
| Temperature Limits (Degrees F) | | |
| Conditions | Cylinder Head | Oil |
| Ground Operation | 500F | 203F |
| Take Off Power 500F | 203F | |
| Military Power 500F | 203F | |
| Rated Power (1hr) | 478F | 185F |
| Rated Power (continuous) | 450F | 185F |
| 70% Rated Power (cont.) | 450F | 185F |
Further reading
Bibliography and source
Aircraft Engines of the World 1945 by Paul Howard Wilkinson
Boeing B-29 Superfortress: The Ultimate Look: From Drawing Board to VJ-Day by William Wolf