The Trident I C-4 submarine-launched ballistic missile (SLBM) was deployed with the U.S. Navy Fleet of strategic submarines from 1979 to 2004.
Trident I SLBMs began their initial operational capability (IOC) in 1979. That meant that Trident I deployment started before the Ohio-class SSBNs were ready.
Lafayette class deployment
So, Trident I missiles were added to existing Lafayette-class SSBNs. Specifically, 6 submarines of the James Madison sub-class and 6 submarines of the Benjamin Franklin sub-class.
These submarines were first made for Polaris/Poseidon SLBMs and conversion was required. The Lafayette submarines converted to carry the Trident I C-4 missiles were:
USS James Madison (SSBN-627)
USS Daniel Boone (SSBN-629)
USS John C Calhoun (SSBN-630)
USS Von Steuben (SSBN-632)
USS Casimir Pulaski (SSBN-633)
USS Stonewall Jackson (SSBN-634)
USS Benjamin Franklin (SSBN-640)
USS Simon Bolivar (SSBN-641)
USS George Bancroft (SSBN-643)
USS Henry L Stimson (SSBN-655)
USS Francis Scott Key (SSBN-657)
USS Mariano G Vallejo (SSBN-658)
These submarines were based on the Polaris Missile Facility Atlantic at Charleston, South Carolina.
By 1982, the number of Trident I SLBMs on Lafayette-class submarines reached its peak of 192 missiles, which equaled 1,536 W-76 thermonuclear warheads. That same year, Ohio-class SSBNs designed for Trident started to be commissioned.
From 1982, the number of Trident I SLBMs on Lafayette-class submarines stayed at 192 missiles. This meant there were 1,536 warheads. This number stayed the same for ten years. But in 1992, it dropped to 176 missiles or 1,152 warheads. By 1993, all submarines of the Lafayette class were decommissioned.
Ohio class deployment
The initial eight ships of the Ohio class, stationed at the Strategic Weapons Facility Pacific in Bangor, Washington, were configured to carry 24 Trident I (C4) SLBMs. These submarines were:
USS Ohio (SSBN-726)
USS Michigan (SSBN-727)
USS Florida (SSBN-728)
USS Georgia (SSBN-729)
USS Henry M. Jackson (SSBN-730)
USS Alabama (SSBN-731)
USS Alaska (SSBN-732)
USS Nevada (SSBN-733)
From the ninth Trident submarine, specifically the USS Tennessee (SSBN-734), every new SSBN was fitted with the Trident II missiles. These Trident II configured submarines were based at the Strategic Weapons Facility Atlantic at Kings Bay, Georgia.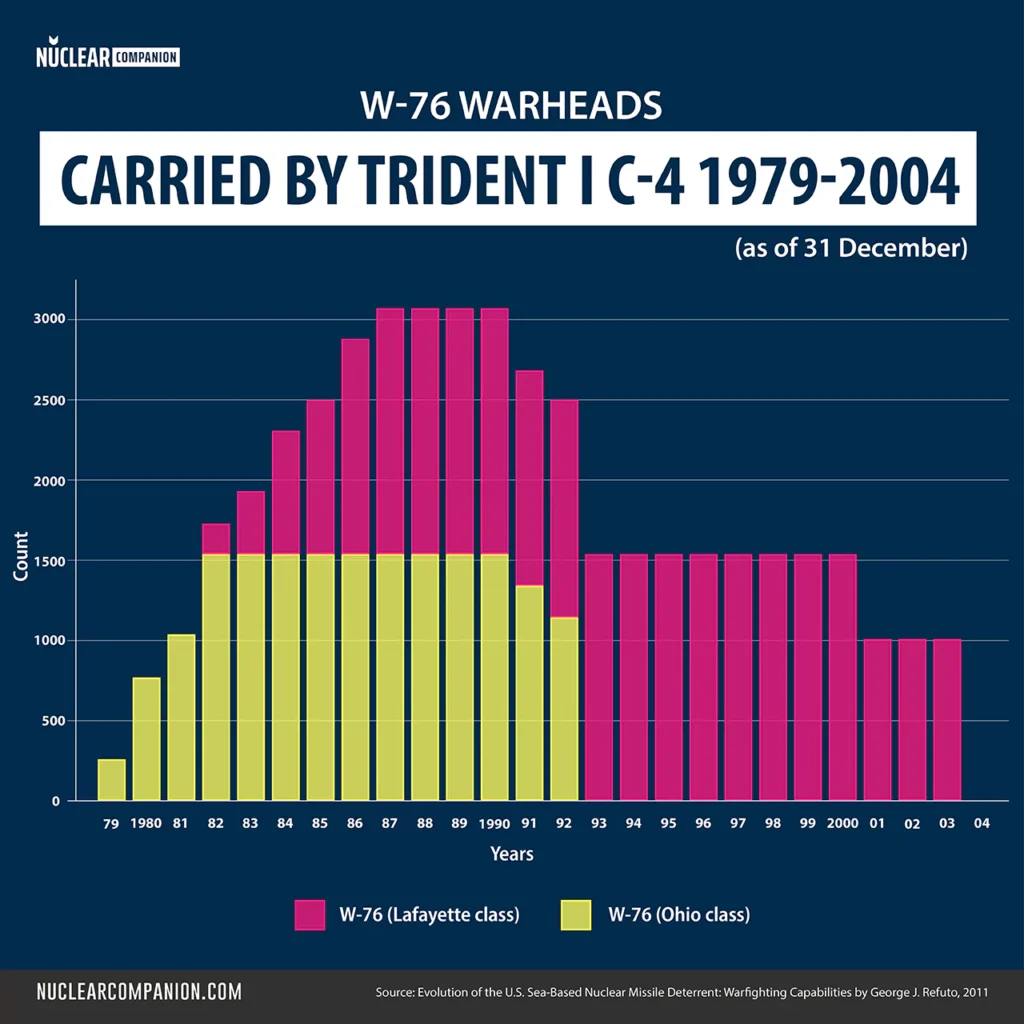 In 1993, Ohio-class boats had 192 Trident I missiles or 1,536 warheads.
At the beginning of the 2000s, the U.S. Navy converted the four oldest C4-capable Ohio submarines to a conventional (non-nuclear) role and the other four to carry D5 missiles. By 2004, all Trident Is were not in use anymore.
SSBNs and SLBM Launchers
The table below details the Trident C4 deployment from 1979 to 2004 (as of December 31):
Year
SSBNs
(Trident)
SSBNs
(Lafayette)
Launchers
(Lafayette class)
Launchers
(Ohio class)
Total
Launchers
1979
0
2
32
0
32
1980
0
6
96
0
96
1981
0
8
128
0
128
1982
1
12
192
24
216
1983
2
12
192
48
240
1984
4
12
192
96
288
1985
5
12
192
120
312
1986
7
12
192
168
360
1987
8
12
192
192
384
1988
8
12
192
192
384
1989
8
12
192
192
384
1990
10
12
192
192
384
1991
12
12
192
192
384
1992
13
11
176
192
368
1993
14
0
0
192
192
1994
15
0
0
192
192
1995
16
0
0
192
192
1996
17
0
0
192
192
1997
18
0
0
192
192
1998
18
0
0
192
192
1999
18
0
0
192
192
2000
18
0
0
192
192
2001
18
0
0
168
168
2002
18
0
0
168
168
2003
18
0
0
168
168
2004
18
0
0
0
0
W-76 Warhead deployments
The table below details the W-76 warheads deployment in Trident C4 missiles between 1979 to 2004 (as of December 31):
Year
W-76
(Lafayette class)
W-76
(Ohio class)
Total
1979
256
0
256
1980
768
0
768
1981
1024
0
1024
1982
1536
192
1728
1983
1536
384
1920
1984
1536
768
2304
1985
1536
960
2496
1986
1536
1344
2880
1987
1536
1536
3072
1988
1536
1536
3072
1989
1536
1536
3072
1990
1536
1536
3072
1991
1344
1344
2688
1992
1152
1344
2496
1993
0
1536
1536
1994
0
1536
1536
1995
0
1536
1536
1996
0
1536
1536
1997
0
1536
1536
1998
0
1536
1536
1999
0
1536
1536
2000
0
1536
1536
2001
0
1008
1008
2002
0
1008
1008
2003
0
1008
1008
2004
0
0
0
Further reading
Bibliography
Evolution of the U.S. Sea-Based Nuclear Missile Deterrent: Warfighting Capabilities by George J. Refuto, 2011