Introduction
The Ohio Class, also known as Trident submarines, are the U.S. Navy's most potent and expensive fleet ballistic missile (FBM) submarines. They are the biggest ballistic missile submarines ever constructed by the U.S., with the first one, Ohio, being laid down nine years following the Will Rogers, the prior U.S. strategic missile submarine.
The Ohio Class is unparalleled in size among Western nations, approximating 560 feet long, akin to a World War II light cruiser, and only marginally outdone by the Soviet Typhoon Class at 562 feet. However, Soviet Typhoon and Oscar-class submarines are overall larger, with the former almost half-again as large.
The Ohio Class, primarily equipped with Trident II submarine-launched ballistic missiles (SLBMs), represents the primary U.S. strategic deterrent managed by the U.S. Strategic Command in Nebraska.
Ohio Class SPECIFICATIONS
Length:
560 ft (170.7 m)
Height:
36 ft 3 in (11 m)
Width:
42 ft (170.7 m)
Weight:
16,750 tons surfaced
18,740 tons submerged
Armament:
24 launch tubes for Trident missiles and four 21 inch
torpedo tubes
Speed:
18 knots on the surface
~25 knots submerged
Powerplant:
single S8G pressurized water nuclear reactor
Crew complement:
155 men; 15 officers, 140 enlisted
Contractor:
General Dynamics Electric Boat Division
Names of submarines:
(726) Ohio, (727) Michigan, (728) Florida, (729) Georgia, (730) Henry M Jackson '(713) Alabama, (732) Alaska, (733) Nevada, (734) Tennessee, (735) Pennsylvania, (736) West Virginia, (737) Kentucky (738) Maryland, (739) Nebraska, (740) Rhode Island, (741) Maine, (742) Wyoming, (743) Louisiana
Description
Design
The Ohio-class submarines, identified by BUSHIPS design number SCB 304, represent a significant advancement in the U.S. Navy's Fleet Ballistic Missile force.
In terms of design, they lean towards a traditional approach, featuring a bow sonar dome and angled torpedo tubes, which are evocative of later attack submarine designs.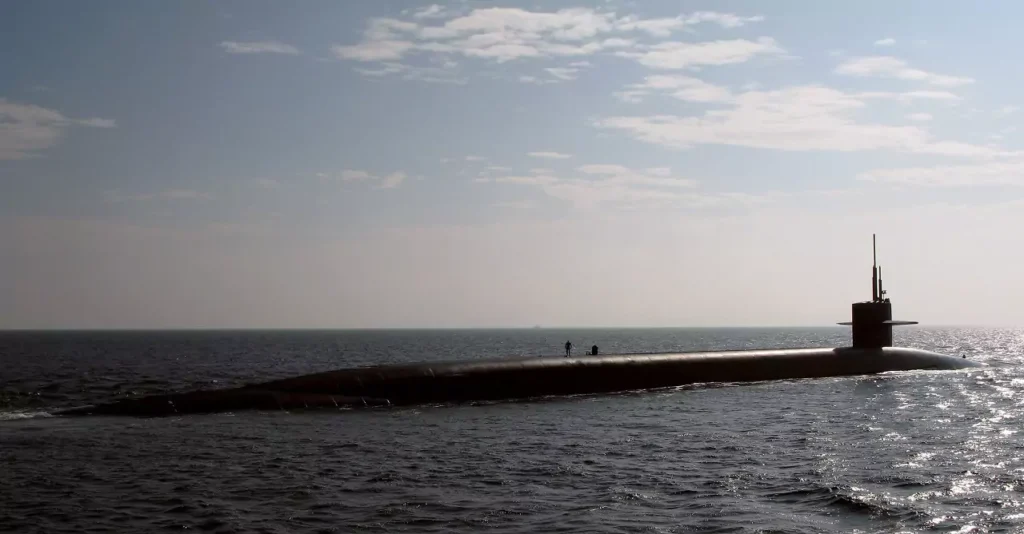 Dimensionally, these vessels are impressive, stretching 560 feet in length and boasting a beam of 42 feet. Crucially, their dimensions and structure were influenced by the requirements of the 24 vertically launched Trident missiles they house, as well as their integrated General Electric S8G reactor.
Additionally, when considering their underwater capabilities, they have a displacement of 18,750 tons and can reach a notable maximum operating depth of 985 feet.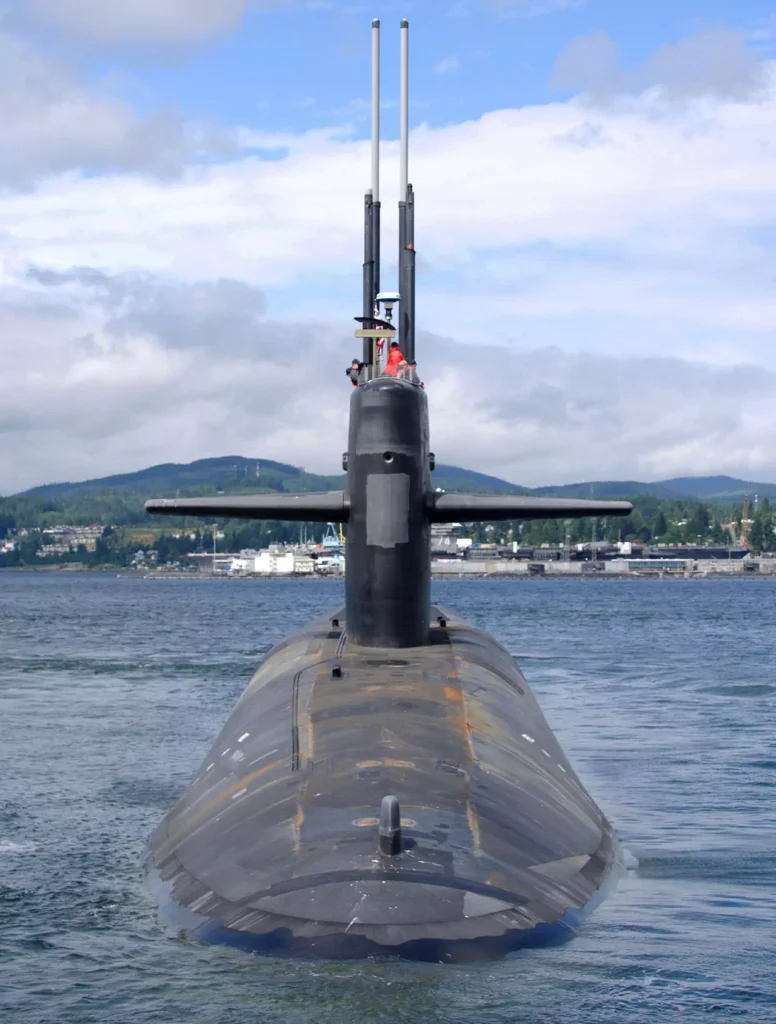 In terms of operational capability, due to their enhanced speed, agility, and notably reduced noise levels, they stood less vulnerable to anti-submarine weapons, especially when contrasted with the older Lafayette class.
Beyond this, thanks to their design and the longevity of their reactor's core, they demand less maintenance. Consequently, this translates to them enjoying longer patrols at sea and spending considerably less time in the harbor.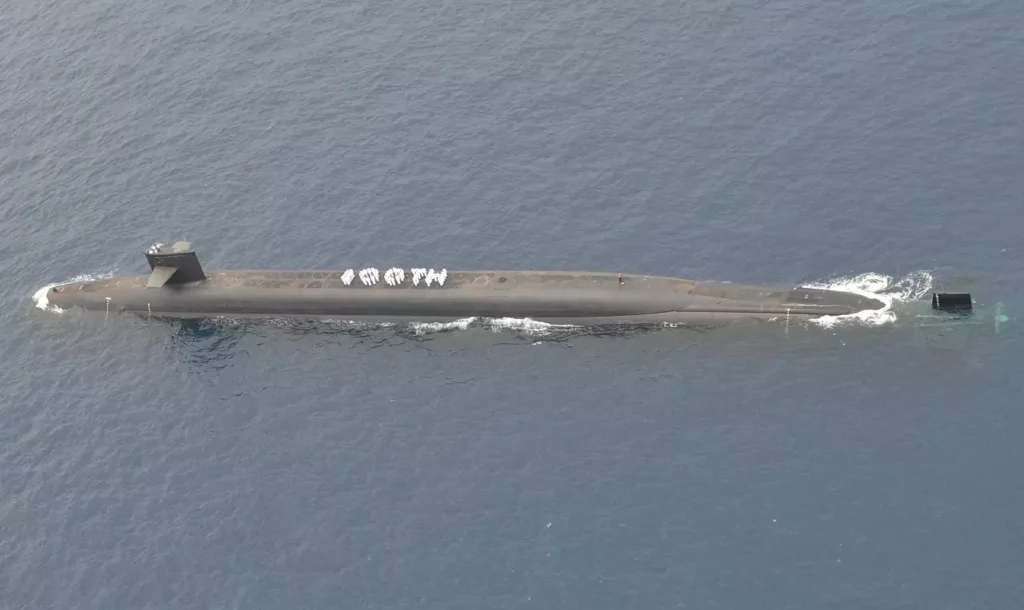 On the financial front, the Ohio class offered a more cost-effective alternative. With their ability to carry 24 missiles, as opposed to the Lafayette's 16, the Navy could adequately replace all 31 Lafayette vessels with a mere 20 Ohio-class subs. This strategic decision not only pared down the fleet size but also significantly reduced the need for a vast inventory of spare parts, leading to optimized operational costs over their expected 30-year service span.
Crew
Trident submarines operate with two rotating crews, each comprising 14 officers and 140 enlisted personnel. Their 95-day routine includes a 25-day maintenance phase followed by 70 days at sea.
The crew's endurance primarily determines the submarine's duration at sea. However, these vessels have been designed with crew comfort in mind. In terms of amenities, they are equipped with extensive internal crew facilities, including two libraries and individual music headphones for each bunk.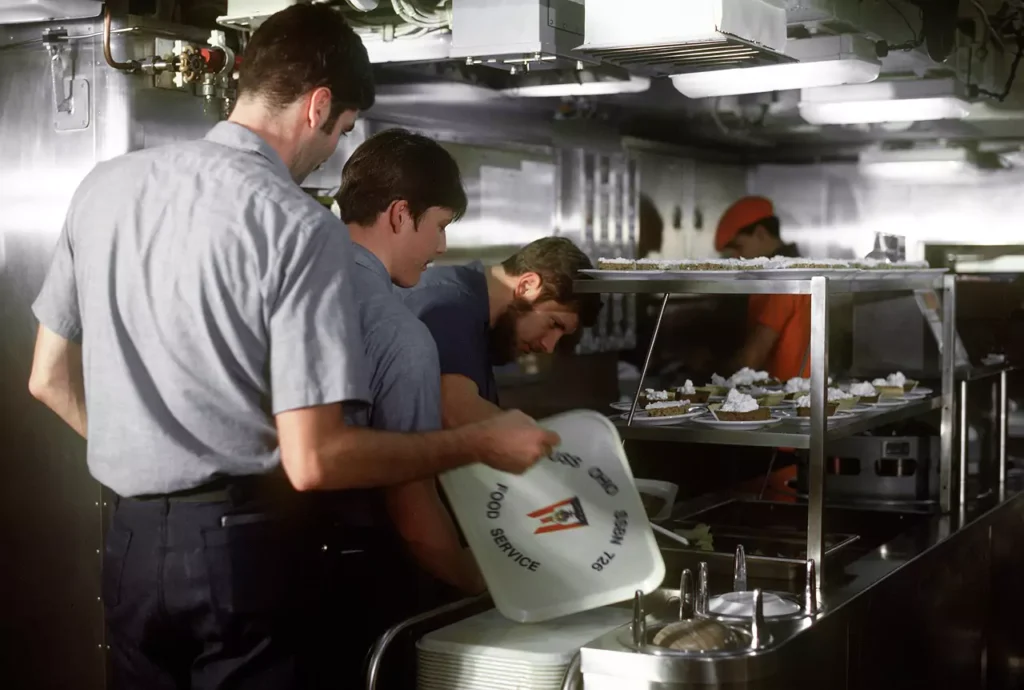 The Ohio class consists of four decks:
The uppermost level beneath the sail is home to the Command and Control Center, Navigation Center, Integrated Radio Room, and Sonar Room. Following that, the second level holds the Missile Control Center and essential ship offices.
The third level is designed for crew relaxation, housing dining facilities, and quarters.
The fourth level contains the auxiliary machinery room and the torpedo room, which is strategically located mid-ship due to the bow-mounted sonar and has four MK 68 torpedo tubes. Below this level, the ship stores its emergency battery.
The rear third of the ship encompasses the reactor compartment and engine room, the central third houses the missile section, and the front third is reserved for ship operations. For the enlisted crew, their quarters are placed in the missile compartment's third level, arguably the ship's quietest section.
The submarine's unique structure includes three spacious logistic hatches, replacing the standard 26-inch ones, which enable swift transfers of cargo, machinery components, and equipment modules, thus reducing time for maintenance and resupply.
Missiles
Each submarine features twenty-four missile tubes organized in two sets of twelve situated behind the sail.
The Ohio Class submarines initially launched with the Trident I C-4 ballistic missile system, incorporated in the first eight vessels.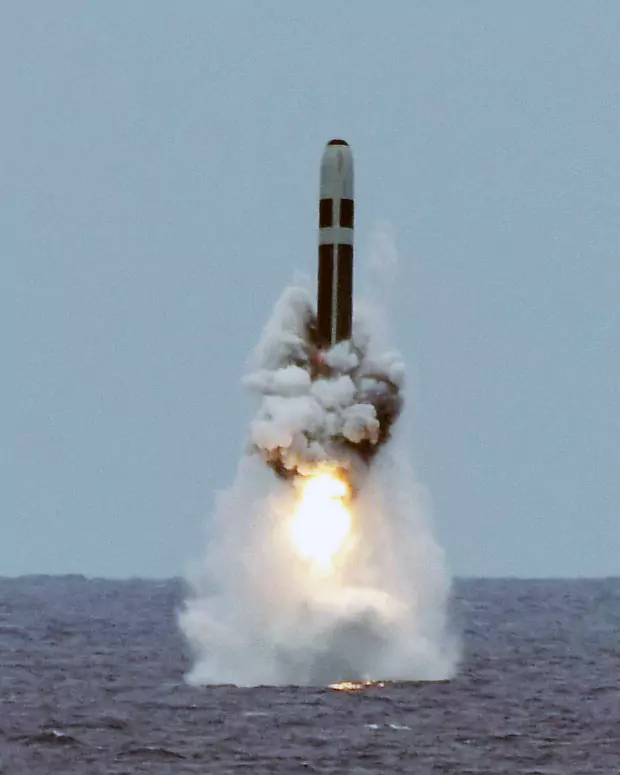 From the Tennessee vessel onward, they have been equipped with the Trident II D-5 ballistic missile system. Plans to refit all early submarines with the D-5 missile were disrupted by Soviet-U.S. strategic arms agreements.
Finally, the D-5 missile was retrofitted into the SSBN 730-733s during the 200s: the initial two ships in 2000-2001 and the subsequent pair in 2004-2005.
The Trident II D-5, the most formidable submarine-launched ballistic missile in naval history, utilizes stellar and inertial navigation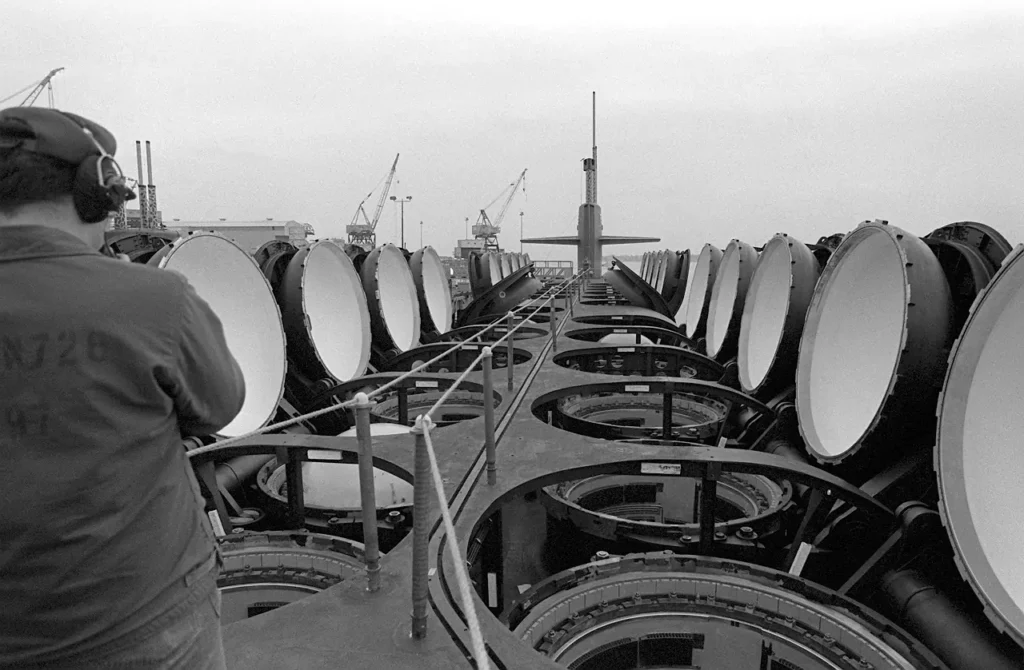 Each missile can hold up to eight of the heavy Mk-5 re-entry vehicle with the W-88 475 Kt thermonuclear warhead or up to fourteen of the lighter MK-4 re-entry vehicle with the W-76 100 Kt warhead.
The missile payload of a single Ohio Class submarine could potentially target 336 separate locations. And all this, with an accuracy approaching 300 feet circular error probable (CEP) even after covering 4,100 miles.
In reality, the Trident II D-5 is typically loaded with a maximum of eight warheads, limiting its range to 4,100 miles, although the missile's full range exceeds 6,200 miles.
Sonar and Electronics
The Ohio-class submarines were initially equipped with the IBM AN/BQQ-6 Sonar suite, which was a modification of the AN/BQQ-5 system from the Los Angeles-class submarine but tailored for the distinct operational needs of an SSBN. One of the main distinctions between the AN/BQQ-6 and AN/BQQ-5 is that the former lacks an active element in its bow transducer.
While the AN/BQQ-6 is predominantly a passive sonar system, its design includes a significant portion, about 73%, of the components from the AN/BQQ-5.
Notably, the AN/BQQ-6 suite incorporates:
Raytheon AN/BQS-13 spherical array sonar housing 944 hydrophones
Ametek AN/BQS-15 active/passive high-frequency sonar for mine detection and obstacle avoidance (under-ice navigation). Located on the forward edge of the sail.
Raytheon's active AN/BQR-19 navigation sonar which is mast-mounted and intended to be used while surfacing
Western Electric passive AN/BQR-15 towed array with Rockwell BQQ-9 signal processor intended to detect targets astern of the SSBN.
For navigation and surface search purposes, the Ohio class employed the BPS-15A I/J-band radar.
However, as technology advanced, the Ohio submarines underwent an upgrade. They were fitted with the Lockheed Martin AN/BQQ-10(V4) sonar processing system, replacing the original BQQ-6. This upgrade was part of the US Navy's Acoustic-Rapid Commercial-off-the-Shelf Insertion (ARCI) program, with the USS Alaska being the first to receive the ARCI update in the fall of 2000.
Propulsion
The Ohio Class submarines run on a General Electric S8G pressurized water-cooled nuclear reactor, capable of generating over 35,000 equivalent shaft horsepower (SHP), although the initial intention was to achieve up to 60,000 SHP.
The reactor powers the Westinghouse geared turbines which drive a single seven-blade screw. A land-based prototype of this system, the S7G reactor plant, is located at West Milton, N.Y.
The reactor cores were initially intended for refueling every decade; yet, subsequent cores offer energy for roughly double that period.
There's a backup Fairbanks Morse diesel for maneuvering if nuclear reactor power fails, and a snorkel installed in the aft upper sail area to deliver fresh air to the crew or diesel engine when at periscope depth.
Remarkably, the Ohio submarines are quieter than their design objectives and might be the quietest nuclear submarines built, especially when operating at low speeds using natural convection for pressurized water circulation in the primary loop.
Torpedoes
Ohio Class submarines are equipped with four 21-inch MK 68 torpedo tubes that carry enhanced Mk 48 ADCAP (added capability) torpedoes.
These dual-purpose torpedoes, managed by the Mk 118 Mod 2 fire control system, are stationed in the forward bow launch tubes for self-defense. Measuring 19 feet long, these torpedoes hold 650 pounds of high explosives, and they can address threats either submerged or on the surface.
They can target opposing submarines up to 3000 feet deep and over twenty miles away. Powered by a piston engine, the torpedoes can achieve speeds exceeding fifty knots via monopropellant fuel and twin counter-rotating propellers. Wire guidance steers the torpedo towards its target, where its onboard active sonar begins to home in.
The torpedo's phased array sonar uses multiple ping generators to create a 3D map of the surrounding area based on the time delay from reflecting surfaces, ensuring precise target tracking and preventing false trails of other objects or countermeasures.
Construction
The Trident program, which led to the creation of Ohio Class submarines, was born from a 1967-68 Department of Defense study called STRAT-X. Its goal was to assess future strategic weapon requirements. This study led to the development of the Underwater Long-range Missile System (ULMS), which was renamed Trident in May 1972.
After Electric Boat, a division of General Dynamics Corp based in Groton, Connecticut, won the design contract, funding for the first Trident submarine was approved in November 1973. On July 25, 1974, Electric Boat was awarded the construction contract for the USS Ohio, the first of its class.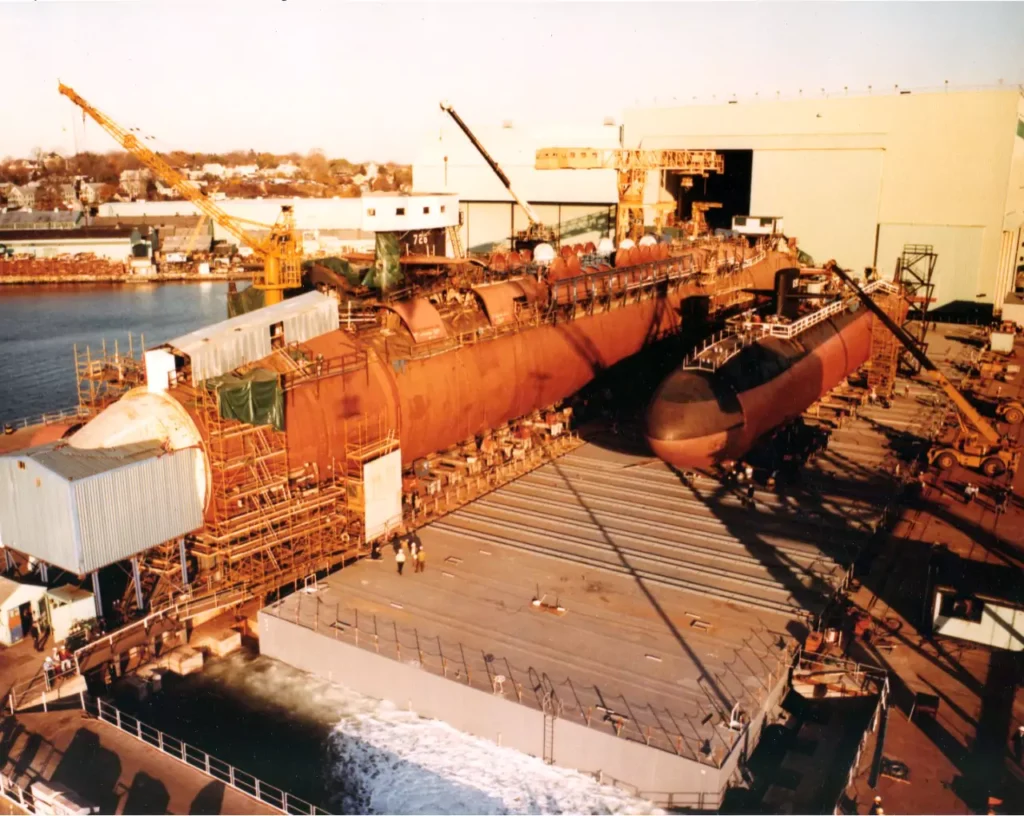 Construction of the USS Ohio started in 1974 using a modular approach. Cylinders of 42-foot diameter were created at Quonset Point, Rhode Island, and then shipped to Electric Boat for assembly. After welding the cylinders together, a long cylindrical submarine was formed.
The keel-laying ceremony took place in April 1976, and by April 1978, the USS Ohio was moved out of the assembly building for final construction and launch. However, in December 1978, it was discovered that the USS Ohio's nuclear reactor turbines were defective, causing a delay in the launch until April 11, 1979.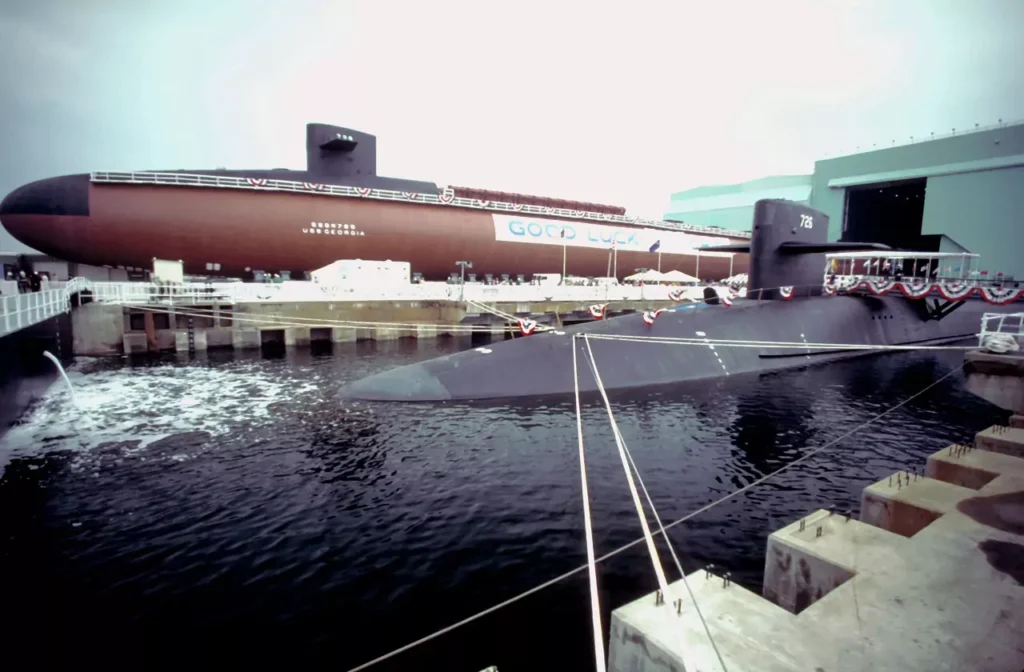 The submarine was finally delivered to the U.S. Navy after two years of testing on October 28, 1981, and commissioned on November 11, 1981. A significant factor in the delays was the replacement of faulty turbine rotors in the General Electric reactor, along with various design changes and the learning curve of building a new class of ships.
From the initiation of the Trident program in 1970 to the completion of the USS Ohio in 1981, more than 11 years passed, contrasting with the three years it took to develop the Polaris SLBM and complete the George Washington.
| No. | Name | Builder | Keel Laid | Launched | Comm. |
| --- | --- | --- | --- | --- | --- |
| SSBN 726 | Ohio | Electric Boat | 10 Apr 1976 | 7 Apr 1979 | 11 Nov 1981 |
| SSBN 727 | Michigan | Electric Boat | 4 Apr 1977 | 26 Apr 1980 | 11 Sep 1982 |
| SSBN 728 | Florida | Electric Boat | 9 Jun 1977 | 14 Nov 1981 | 18 Jun 1983 |
| SSBN 729 | Georgia | Electric Boat | 7 Apr 1979 | 6 Nov 1982 | 11 Feb 1984 |
| SSBN 730 | Henry M. Jackson | Electric Boat | 7 Apr 1980 | 15 Oct 1983 | 6 Oct 1984 |
| SSBN 731 | Alabama | Electric Boat | 27 Aug 1981 | 19 May 1984 | 25 May 1985 |
| SSBN 732 | Alaska | Electric Boat | 9 Mar 1983 | 12 Jan 1985 | 25 Jan 1986 |
| SSBN 733 | Nevada | Electric Boat | 8 Aug 1983 | 14 Sep 1985 | 16 Aug 1986 |
| SSBN 734 | Tennessee | Electric Boat | 9 Jun 1986 | 13 Dec 1986 | 17 Dec 1988 |
| SSBN 735 | Pennsylvania | Electric Boat | 2 Mar 1987 | 23 Apr 1988 | 9 Sep 1989 |
| SSBN 736 | West Virginia | Electric Boat | 18 Dec 1987 | 14 Oct 1989 | 20 Oct 1990 |
| SSBN 737 | Kentucky | Electric Boat | 18 Dec 1987 | 11 Aug 1990 | 13 Jul 1991 |
| SSBN 738 | Maryland | Electric Boat | 18 Dec 1987 | 10 Aug 1991 | 13 Jun 1992 |
| SSBN 739 | Nebraska | Electric Boat | 18 Dec 1987 | 15 Aug 1992 | 10 Jul 1993 |
| SSBN 740 | Rhode Island | Electric Boat | 23 Apr 1988 | 17 Jul 1993 | 9 Jul 1994 |
| SSBN 741 | Maine | Electric Boat | 4 Apr 1989 | 16 Jul 1994 | 29 Jul 1995 |
| SSBN 742 | Wyoming | Electric Boat | 27 Jan 1990 | 22 Jul 1995 | 13 Jul 1996 |
| SSBN 743 | Louisiana | Electric Boat | 15 May 1991 | 27 Jul 1996 | 6 Sep 1997 |
All Ohio Class submarines were built by Electric Boat, which was a change from previous methods where up to four yards shared the construction process.
The Trident construction ended with the fall of the Soviet Union in 1991. The eighteenth and final Trident submarine was authorized in 1990 and completed in 1997. By that time, all the Polaris-Poseidon-Trident C-4 submarines had been discarded, with two repurposed for special operations and transport.
Operative Service
Commissioned on November 11, 1981, the USS Ohio was the first Trident submarine. Shortly after its commissioning, it began its demonstration and shakedown, launching its first Trident I missile on January 17, 1982.
After sailing into Peugeot Sound, Washington, and finishing a strategic out load at Bangor, the submarine achieved deployed status in late August 1982. This notable vessel then embarked on its first deterrent patrol on October 1, symbolizing the accomplishment of Initial Operational Capability.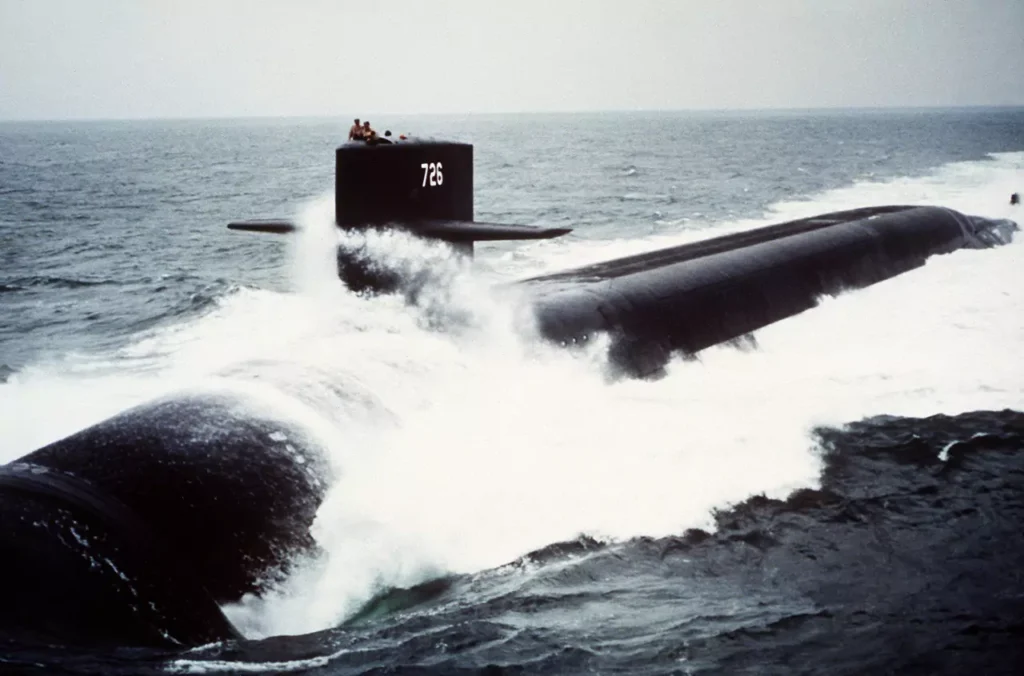 The USS Ohio made her first Trident missile patrol in the North Pacific, carrying 24 C-4 missiles. This mirrored the 1979 deployment of the C-4 missiles aboard the USS Francis Scott Key (SSBN-657), an older Polaris-Poseidon submarine, which emphasized the adaptability of the Polaris submarine design.
Following the USS Ohio, eight more submarines, including the USS Michigan(SSBN-727), USS Florida(SSBN-728), USS Georgia(SSBN-729), USS Henry M. Jackson(SSBN-730), USS Alabama(SSBN-731), USS Alaska(SSBN-732), and USS Nevada(SSBN-733), were commissioned and assigned to the Pacific Fleet based at Naval Submarine Base Bangor, Washington.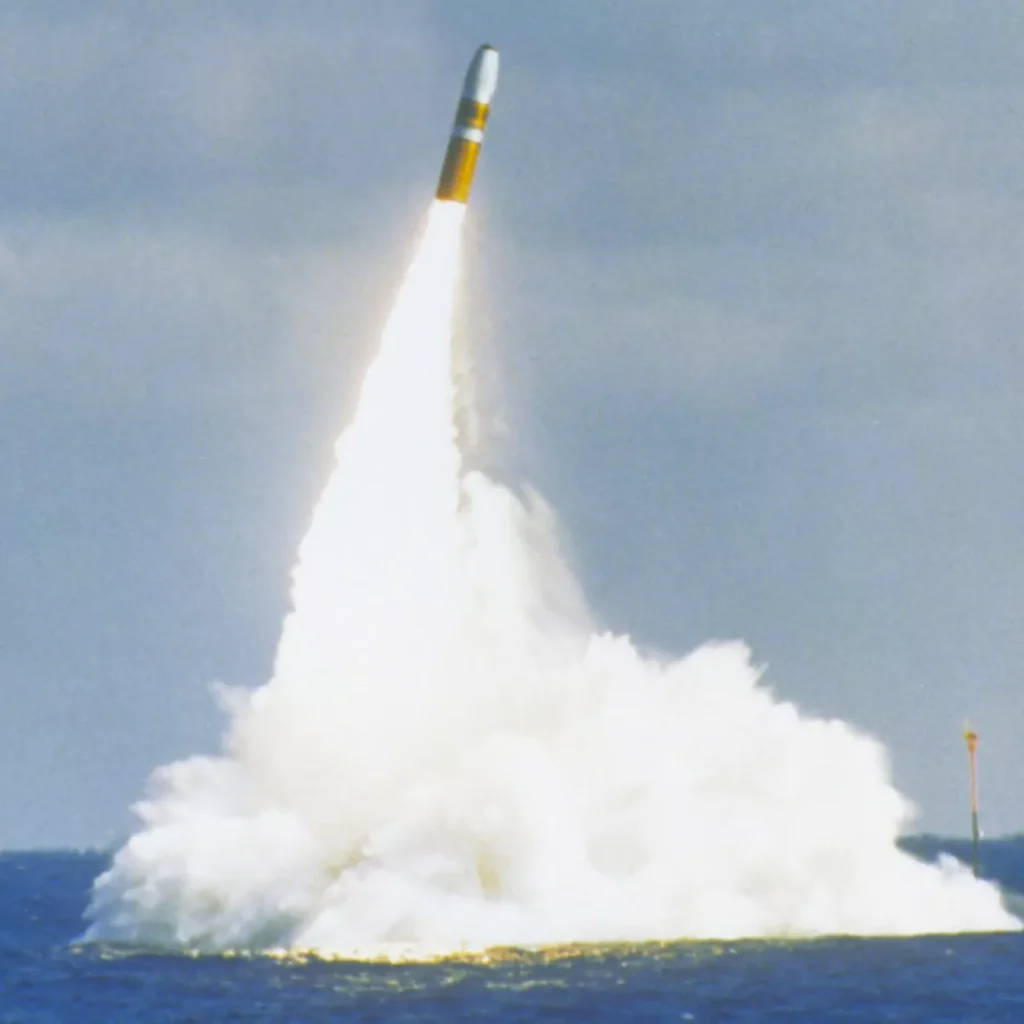 Nine others, including USS Tennessee(SSBN-734), USS Pennsylvania(SSBN-735), USS West Virginia(SSBN-736), USS Kentucky(SSBN-737), USS Maryland(SSBN-738), USS Nebraska(SSBN-739), USS Rhode Island(SSBN-740), USS Maine(SSBN-741), USS Wyoming(SSBN-742), and USS Louisiana(SSBN-743), were commissioned and served with the Atlantic Active Fleet based at Naval Submarine Base, Kings Bay, Georgia.
The USS Tennessee was the first to launch a Trident II missile from an Ohio class submarine on March 21, 1989, but the launch failed. The first successful Trident D-5 submarine launch occurred on August 2, 1989.
The Trident II missile enabled Ohio-class submarines to strike targets in the former Soviet Union from Kings Bay, Georgia. The Initial Operational Capability with the D-5 was achieved on March 23, 1990.
Conversion to Guided Missile Submarines (SSGNs)
As a result of the Strategic Arms Reduction Treaty (START), introduced in December 2001, the total amount of Submarine-Launched Ballistic Missile (SLBM) and Intercontinental Ballistic Missile (ICBM) re-entry bodies was capped at 4,900. This led to a transformation of the Ohio-class submarine fleet.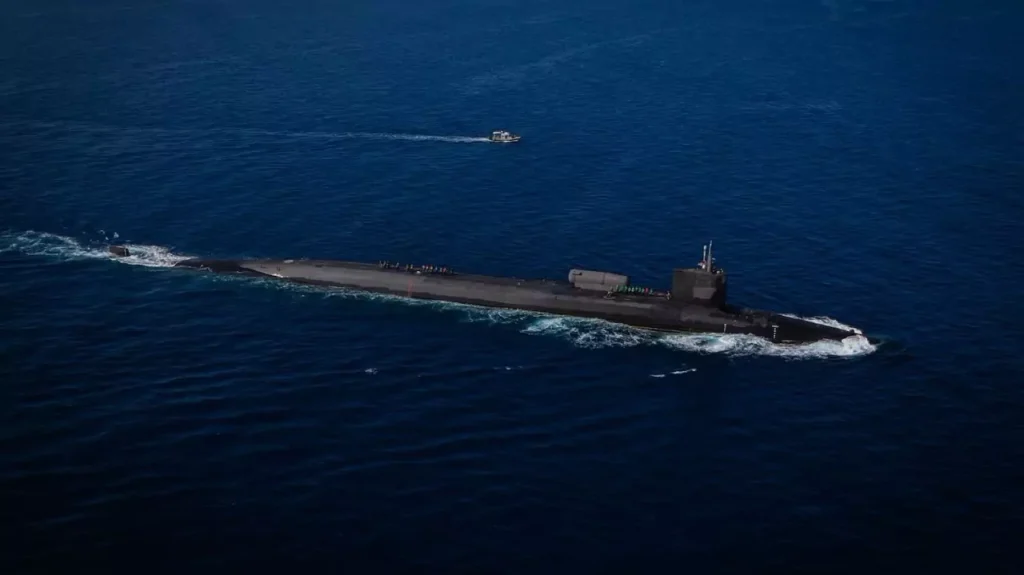 The first four Ohio-class submarines, which were no longer needed for strategic missions, were repurposed as conventionally-armed guided missile submarines (SSGNs). These transformed submarines were equipped not only to launch cruise missiles but also to deploy Special Forces, providing a much-needed replacement for the transportation role left vacant by the retirement of the Kamehameha.
| No. | Name | Shipyard | Conversion Start | Conversion Complete |
| --- | --- | --- | --- | --- |
| SSBN 726 | Ohio | Electric Boat | 1 Nov 2002 | 17 Jan 2006 |
| SSBN 727 | Michigan | Electric Boat | 1 Nov 2002 | 22 Nov 2006 |
| SSBN 728 | Florida | Electric Boat | 28 June 2003 | 8 Apr 2006 |
| SSBN 729 | Georgia | Electric Boat | 1 Jan 2004 | 18 Dec 2007 |
In 1999, the plan to convert these submarines was proposed, which included modifications to equip each submarine with the capacity to transport around 65 commandos or swimmers, their equipment, small boats, and an Advanced SEAL Delivery System (ASDS) submersible.

In the new SSGN layout, two of the Trident missile tubes were repurposed into large swimmer lockout chambers, which could be used with submersibles or deck chambers. The remaining 22 Trident tubes were modified to accommodate various equipment. They could hold gear for commandos or swimmers, unmanned vehicles, or even up to seven vertical-launch Tomahawk land-attack missiles per tube, providing versatile, adaptable capabilities for the modern naval warfare environment.
Trident submarine squadrons (SUBRON)
Two submarine squadrons manage Ohio-class submarines: SubRon 17 in the Pacific, activated on January 1, 1981, and based at Bangor, Washington, and SubRon 16 in the Atlantic, based at Kings Bay, Georgia. This squadron served from October 18, 1963, until it was deactivated on June 25, 1994. It was reactivated as a Trident SSBN squadron on August 7, 1997. SubRon 20 handles SSBN overhauls and maintenance at Kings Bay.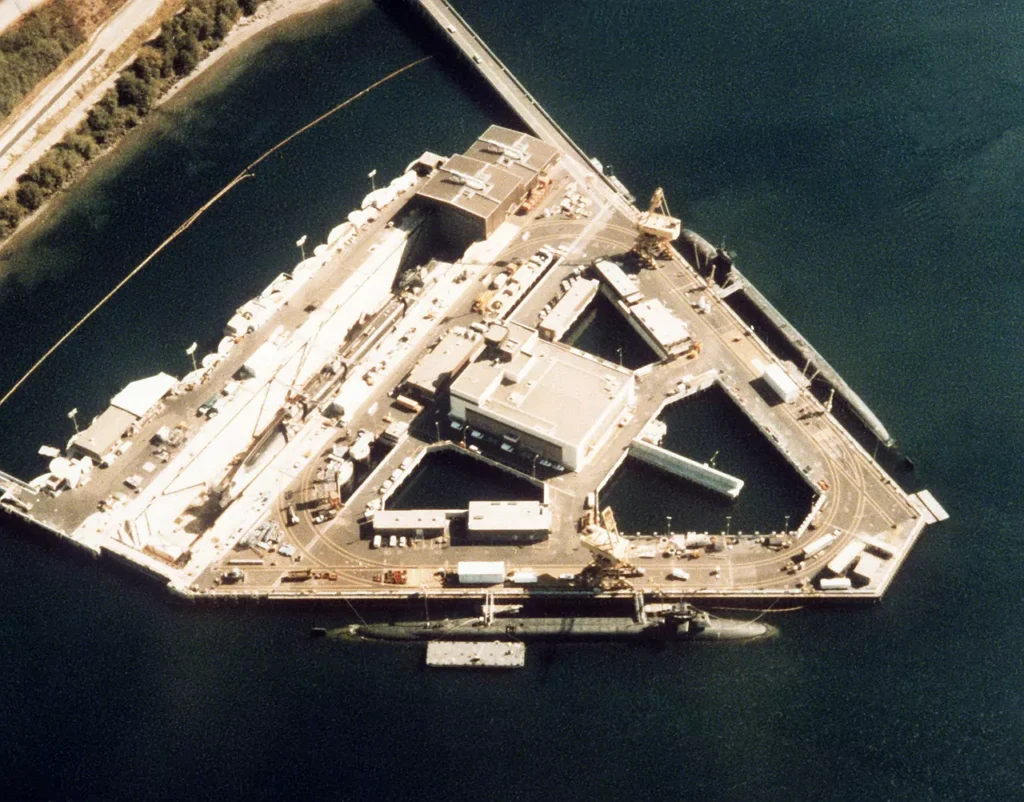 Recent restructuring places all Pacific Fleet SSBNs and SSGNs under Commander Submarine Group 9 at Bangor, with Submarine Squadrons 17 and 19 as subordinate commands. For the Atlantic Fleet, all SSBNs and SSGNs are under Commander Submarine Group 10 at Kings Bay, with SubRons 16 and 20 as subordinate commands.
After converting four Trident submarines to SSGNs and upgrading all submarines to a D-5 missile configuration, the Navy now operates six SSBNs in the Atlantic and eight SSBNs in the Pacific. As a result, USS Pennsylvania, USS Kentucky, USS Nebraska, USS Maine, and USS Louisiana transitioned to the Pacific in the 2002-2005 period.
Ohio Replacement
Starting in 2027, the Navy is set to initiate the decommissioning process for the 14 Ohio-class SSBNs, with the first to retire being the SSBN 730 after completing its 42-year service life. Over the following 13 years, the decommissioning will proceed at a steady pace of one submarine per year, culminating in 2040.
To fill this void, the Columbia class program, led by General Dynamics Electric Boat, is in the process of designing and building 12 advanced ballistic missile submarines (SSBNs). The first submarine of this new class is slated to launch in 2030, with its successor, the USS Wisconsin, expected to enter service soon after.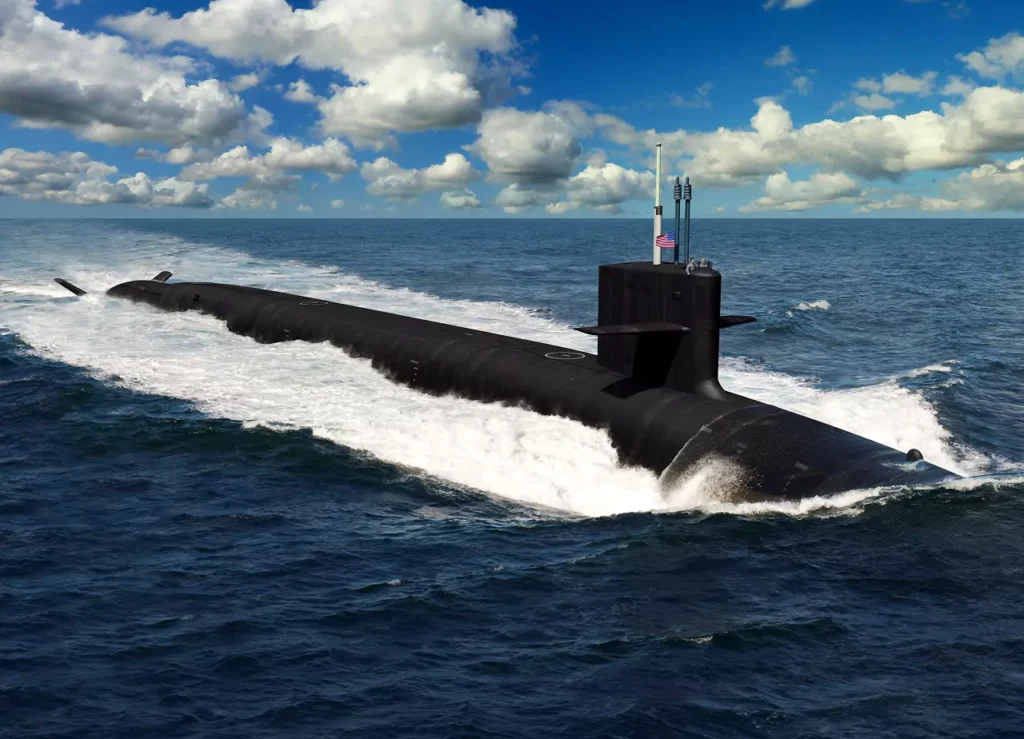 Equipped with the ability to launch 16 Trident II D5 missiles, these new Columbia-class submarines are set to uphold the legacy of the Ohio class while boasting improved features. Their nuclear reactors, paired with an electrically driven propulsion system, provide virtually unlimited endurance and quieter operation. They will also break new ground by being the first U.S. submarines designed to accommodate mixed-gender crews.
Each Columbia-class vessel will incorporate a life-of-ship reactor core, ensuring it is powered throughout its expected 42-year service life. It will also feature X-shaped stern control surfaces. However, these technological advancements come with a substantial cost, with the first two vessels projected to cost $7.5 billion each.
To enhance cost-efficiency and effectiveness, the design of the Columbia class will utilize proven features and design elements from the Virginia-class SSNs and legacy Ohio-class SSBNs.
Bibliography
The Ships and Aircraft of the U.S. Fleet, 14th Edition by Norman Polmar
The Naval Institute Guide to the Ships and Aircraft of the U.S. Fleet 15th Edition by Norman Polmar
U.S. Submarines Since 1945: An Illustrated Design History by Norman Friedman
U.S. Ballistic Missile Subs in Action by Al Adcock
Nuclear Weapons of the United States: An Illustrated History by James N. Gibson