Introduction
The first true USN submarine-based strategic nuclear deterrent patrols started in November 1960. This began with the UGM-27A Polaris A-1 SLBM deployments on George Washington-class SSBNs.
Before this, the Regulus I missile targeted the eastern USSR and China. However, the Polaris missile system had more capability and sustainability than the Regulus I. The deployment force for Polaris was also much bigger.
The number of Polaris submarines grew massively. With the George Washington, Ethan Allen, and Lafayette classes of SSBNs combined, there was an increase of over 700 percent. In total, there were forty-one Polaris SSBNs.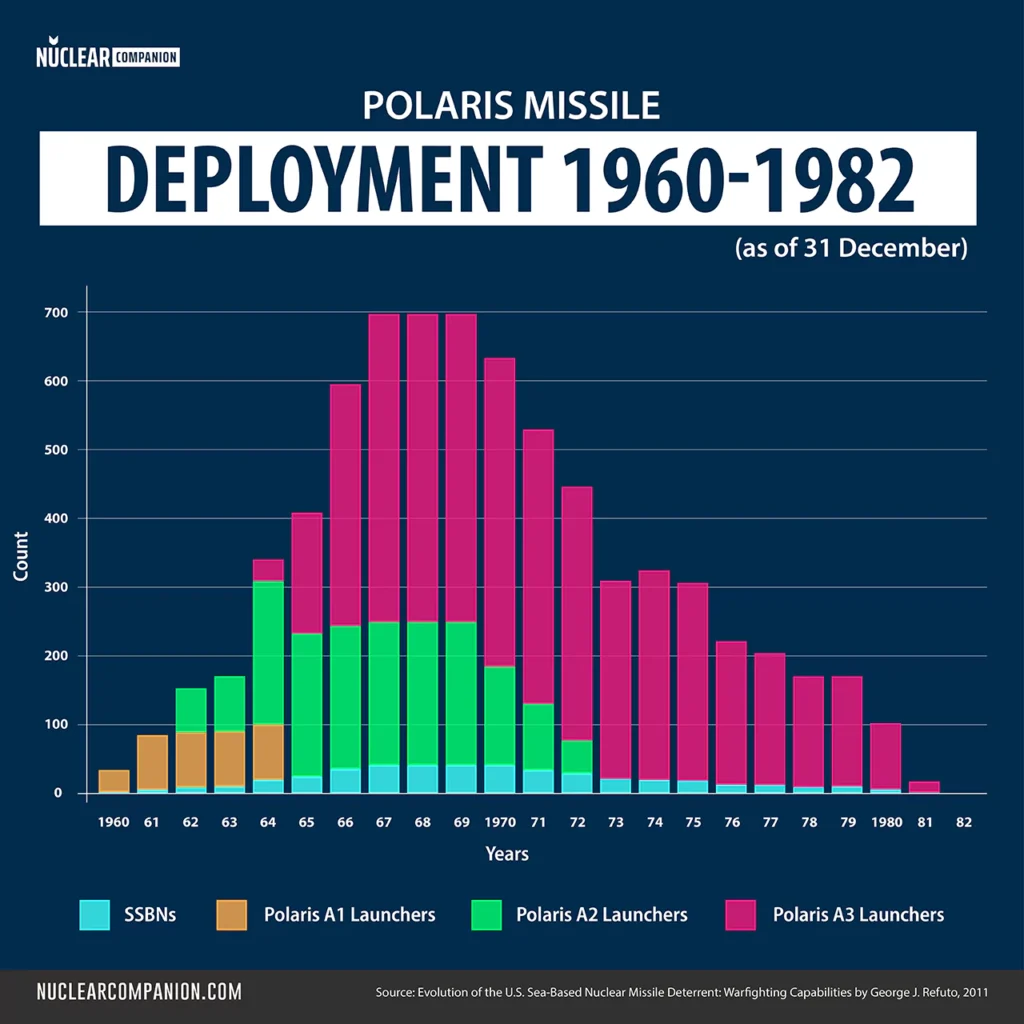 These submarines could carry up to 656 Polaris missiles at once. This was a huge rise – over 3,700 percent more deliverable warheads than the Regulus I deployment. And this was still before the MIRV era.
The Regulus I was limited to the Pacific near the USSR and China. But the Polaris boats expanded their range. They patrolled near Europe, the Pacific, and the Indian Ocean. They approached the USSR and other strategic targets.
Due to its short range of 1,200 nautical miles, the Polaris A-1 missile could hit major Soviet areas only from spots near the Soviet north coast. To solve this, the U.S. Navy set up a submarine base at Holy Loch in Scotland after talks with the UK.
With a range of 1,500 miles, the Polaris A-2 could hit more distant targets than its predecessor. The A-1 could target Moscow and Leningrad, but the A-2 went further.
It could reach important sites in the Ukraine, the Baku oil fields, and even parts of Soviet Central Asia. These targets were accessible from subs placed in the eastern Mediterranean. In 1963, an agreement with Spain led to a submarine base at Cadiz.
The Polaris A-3 missile came with a significant range boost. Its 2,500-mile range doubled the useful waters in the North Atlantic. This upgrade greatly expanded the Navy's operational capacity.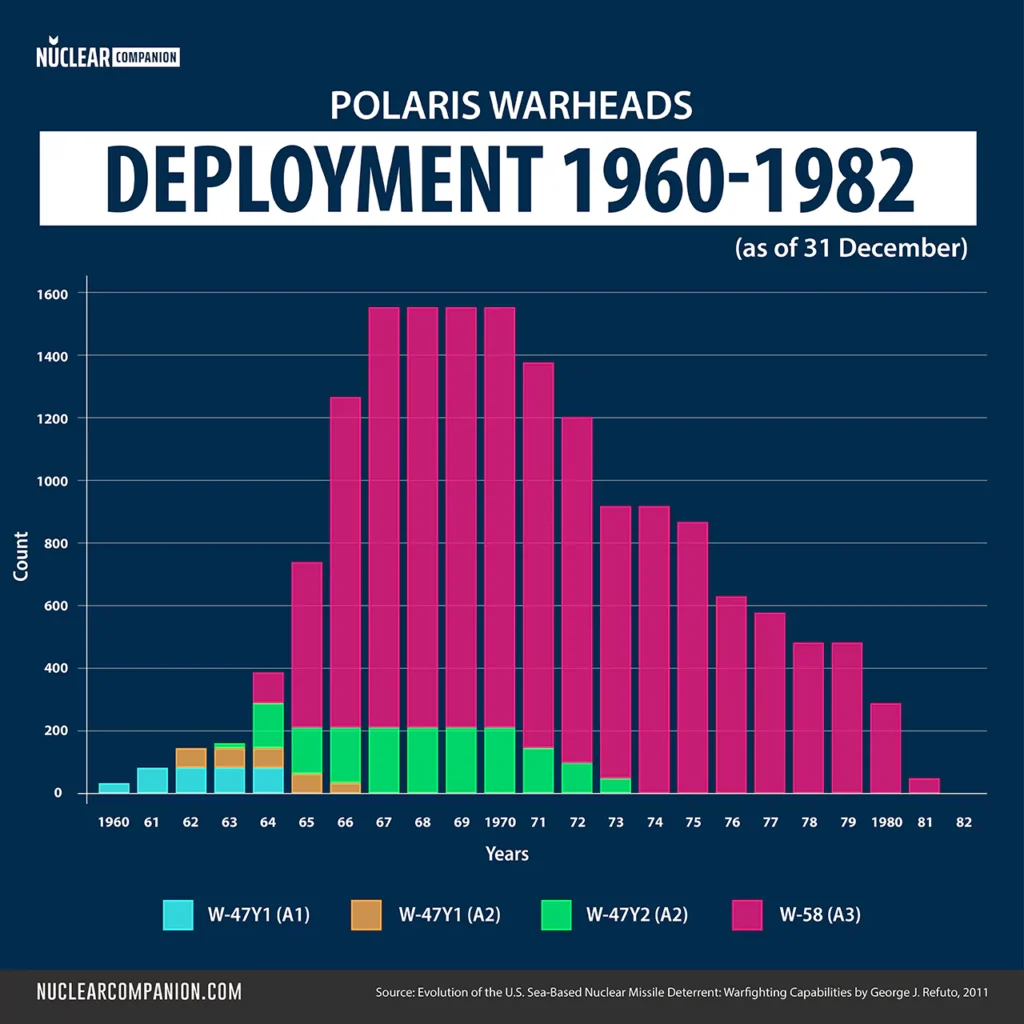 The Royal Navy got into the action as well. They equipped four Resolution-class subs with 16 A-3 missiles each. Counting these British missiles, Lockheed built a total of 1,153 Polaris missiles. The breakdown is 163 A1s, 346 A2s, and 644 A3s. The last A-3 was completed in June 1968.
By the 1970s and 1980s, things changed. The Polaris missiles were being replaced with the UGM-73A Poseidon C3 SLBM. This new missile was fitted onto Lafayette-class SSBNs.
The final patrol with an A-3 took place on October 1, 1981, when the USS Robert E. Lee (SSBN-601) completed the last US Polaris patrol.
And by 1982, the UGM-96A Trident I C-4 SLBMs started to be used. They were on Lafayette SSBNs at first. Later, Ohio-class SSBNs used both Trident I and II missiles.
SSBNs and SLBM Launchers
The table below presents the full deployment of Polaris A1/A2/A3 SLBMs on George Washington, Ethan Allen, and Lafayette-class SSBNs from 1960 to 1982 (as 31 of December):
Year
SSBNs
Polaris A1
launchers
Polaris A2
launchers
Polaris A3
launchers
Total
Launchers
1960
2
32
0
0
32
1961
5
80
0
0
80
1962
9
80
64
0
144
1963
10
80
80
0
160
1964
20
80
208
32
320
1965
24
0
208
176
384
1966
35
0
208
352
560
1967
41
0
208
448
656
1968
41
0
208
448
656
1969
41
0
208
448
656
1970
41
0
144
448
592
1971
34
0
96
400
496
1972
29
0
48
368
416
1973
21
0
0
288
288
1974
19
0
0
304
304
1975
18
0
0
288
288
1976
13
0
0
208
208
1977
12
0
0
192
192
1978
10
0
0
160
160
1979
10
0
0
160
160
1980
6
0
0
96
96
1981
1
0
0
16
16
1982
0
0
0
0
0
Warhead deployments
The following table displays the full deployment of Polaris warheads (w-47, W-58) from 1960 to 1982 (as 31 of December):
| Year | W-47Y1 (A1) | W-47Y1 (A2) | W-47Y2 (A2) | W-58 (A3) | Total |
| --- | --- | --- | --- | --- | --- |
| 1960 | 32 | 0 | 0 | 0 | 32 |
| 1961 | 80 | 0 | 0 | 0 | 80 |
| 1962 | 80 | 64 | 0 | 0 | 144 |
| 1963 | 80 | 64 | 16 | 0 | 160 |
| 1964 | 80 | 64 | 144 | 96 | 384 |
| 1965 | 0 | 64 | 144 | 528 | 736 |
| 1966 | 0 | 32 | 176 | 1056 | 1264 |
| 1967 | 0 | 0 | 208 | 1344 | 1552 |
| 1968 | 0 | 0 | 208 | 1344 | 1552 |
| 1969 | 0 | 0 | 208 | 1344 | 1552 |
| 1970 | 0 | 0 | 208 | 1344 | 1552 |
| 1971 | 0 | 0 | 144 | 1200 | 1344 |
| 1972 | 0 | 0 | 96 | 1104 | 1200 |
| 1973 | 0 | 0 | 48 | 864 | 912 |
| 1974 | 0 | 0 | 0 | 912 | 912 |
| 1975 | 0 | 0 | 0 | 864 | 864 |
| 1976 | 0 | 0 | 0 | 624 | 624 |
| 1977 | 0 | 0 | 0 | 576 | 576 |
| 1978 | 0 | 0 | 0 | 480 | 480 |
| 1979 | 0 | 0 | 0 | 480 | 480 |
| 1980 | 0 | 0 | 0 | 288 | 864 |
| 1981 | 0 | 0 | 0 | 48 | 144 |
| 1982 | 0 | 0 | 0 | 0 | 0 |
Further reading
Bibliography
Evolution of the U.S. Sea-Based Nuclear Missile Deterrent: Warfighting Capabilities by George J. Refuto, 2011
Lockheed aircraft since 1913 By René J. Francillon, 1987