In the annals of aviation history, the Boeing B-29 Superfortress holds a special place as a groundbreaking heavy bomber that played a critical role during World War II and the Korean War.
With 3,970 units built between 1943 and 1946, these formidable aircraft were once the pride of the United States Army Air Forces (USAAF) and the United States Air Force (USAF).
However, as technology advanced and more modern heavy bombers were developed, the B-29s were gradually phased out and sent to dispersal yards, where many met their end through sale or scrapping.
Today, fewer than forty B-29s remain, serving as poignant reminders of an era gone by.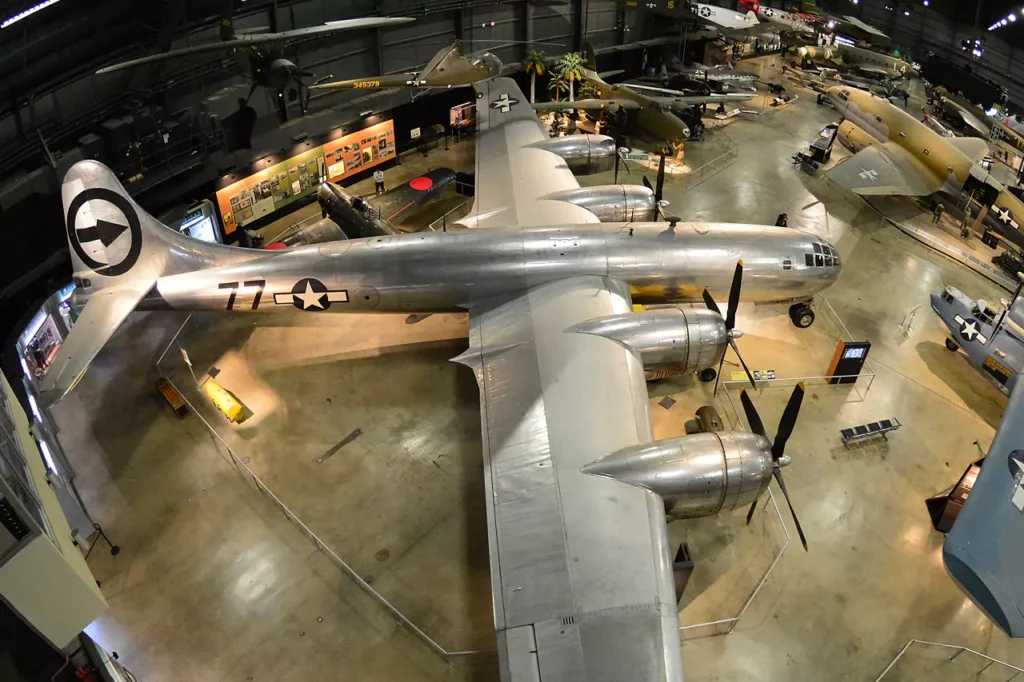 Among the remaining B-29 Superfortresses:
Two flyable examples have been meticulously restored and continue to grace the skies, showcasing their historic prowess.
Furthermore, a total of 20 surviving B-29s can be found on public display, with eight displayed indoors and twelve exhibited outdoors, offering aviation enthusiasts and historians a chance to witness these magnificent aircraft up close.
Outside the United States, two additional B-29s stand as testaments to the aircraft's global impact.
In terms of partial airframes, there are two fuselage sections prominently displayed for the public while eight other B-29s in various stages of completeness remain hidden from public view.
The known wreck sites of three more B-29s round out this list.
For more in-depth information on the surviving B-29 Superfortresses and where to find them, be sure to read our detailed surviving B-29 visitor's guide here!
The following table presents a comprehensive table detailing the data of each surviving B-29 aircraft.
| Serial | Model | Name | Frame | Status | Location | State | Source | Notes |
| --- | --- | --- | --- | --- | --- | --- | --- | --- |
| 44-61535 | B-29A-35-BN | Raz'n Hell | Complete | Displayed outdoor | Castle Air Museum in Castle AFB | California | China Lake | |
| 42-65281 | B-29-25-MO | Miss America 62 | Complete | Displayed outdoor | Travis Air Force Base Aviation Museum in Travis AFB | California | China Lake | |
| 44-27297 | B-29-40-MO | Bockscar | Complete | Displayed indoor | National Museum of the U.S. Air Force (NMUSAF) in Wright-Patterson AFB | Ohio | Inventory | |
| 44-27343 | B-29-40-MO | | Complete | Displayed outdoor | Charles B. Hall Airpark in Tinker AFB | Oklahoma | Aberdeen PG | |
| 44-61669 | B-29A-40-BN | Flagship 500 | Complete | Displayed outdoor | March Field Air Museum in March Air Reserve Base | California | China Lake | Flyable at one time (N3299F) |
| 44-61671 | B-29A-40-BN | Great Artiste | Complete | Displayed outdoor | Whiteman AFB | Missouri | Aberdeen PG | |
| 44-62220 | B-29A-70-BN | Joltin' Josie the Pacific Pioneer | Complete | Displayed outdoor | Lackland Airpark in Lackland AFB | Texas | Aberdeen PG | |
| 44-69729 | B-29-60-BW | T-Square 54 | Complete | Displayed indoor | Museum of Flight in Seattle | Washington | China Lake | |
| 44-70016 | B-29-75-BW | Sentimental Journey | Complete | Displayed indoor | Pima Air and Space Museum in Tucson | Arizona | Inventory | |
| 44-70113 | B-29-80-BW | Sweet Eloise | Complete | Displayed outdoor | Dobbins Air Reserve Base | Georgia | Aberdeen PG | |
| 44-84053 | B-29B-55-BA | Big Red | Complete | Displayed indoor | Museum of Aviation in Robbins AFB | Georgia | Aberdeen PG | |
| 44-84076 | B-29B-60-BA | Lucky Lady | Complete | Displayed indoor | Strategic Air Command & Aerospace Museum in Ashland | Nebraska | Inventory | |
| 44-86408 | B-29-55-MO | Straight Flush | Complete | Displayed outdoor | Hill Aerospace Museum in Hill AFB | Utah | Dugway PG | |
| 44-87627 | B-29-80-BW | Bossier City | Complete | Displayed outdoor | Barksdale Global Power Museum in Barksdale Air Force Base | Louisiana | Aberdeen PG | |
| 44-87779 | B-29-90-BW | Legal Eagle II | Complete | Displayed outdoor | South Dakota Air and Space Museum in Ellsworth AFB | South Dakota | China Lake | |
| 45-21748 | B-29-97-BW | Duke of Albuquerque | Complete | Displayed outdoor | National Museum of Nuclear Science & History in Albuquerque | New Mexico | China Lake | |
| 44-62022 | B-29A-60-BN | Peachy | Complete | Displayed indoor | Pueblo Wisboro Aircraft Museum in Pueblo | Colorado | China Lake | |
| 42-93967 | B-29A-15-BN | Dark Side | Complete | Displayed outdoor | Georgia Veterans State Park in Cordale | Georgia | Aberdeen PG | |
| 44-61975 | B-29A-55-BN | Jack's Hack | Complete | Displayed indoor | New England Air Museum (NEAM) in Windsor Locks | Connecticut | Aberdeen PG | |
| 44-61748 | B-29A-45-BN | Hawg Wild | Complete | On display outside of United States | Imperial War Museum in Duxford | England | China Lake | |
| 44-62070 | B-29A-60-BN | FiFi (N4249) | Complete | Flyable or being prepared for flight | Commemorative Air Force in Midland | Texas | China Lake | FiFi is one the only two B-29 that are airworthy. The black square 'A' tail marking is unique to FiFi and is worn to honour Vic Agather, who rescued the B-29 from China Lake in 1971. She is named FiFi after Vic's wife. |
| 44-69972 | B-29-70-BW | Doc | Complete | Flyable or being prepared for flight | The B-29 Doc Hangar, Education and Visitors Center in Wichita | Kansas | China Lake | N69972. The other airworthy B-29 besides FIFI |
| 44-86292 | B-29-35-MO | Enola Gay | Complete | Displayed indoor | Steven F. Udvar-Hazy Center in Chantilly | Washington DC | Inventory | |
| 45-21739 | B-29-90-BW | | Complete | On display outside of United States | KAI Aerospace Museum in Sacheon | South Korea | China Lake | |
| 45-21787 | B-29-95-BW | Fertile Myrtle | Complete | Fuselage sections on public display | Weeks Fantasy of Flight Museum in Polk City | Florida | Litchfield Park | |
| 44-70049 | | | Complete | Various stages of completeness, not on display | In storage at Borrego Springs, for Kermit Weeks. | California | China Lake | |
| 42-65401 | | | Partial | Various stages of completeness, not on display | Stockton Field Aviation Museum in Stockton | California | | Nose section |
| 44-61739 | | | Partial | Various stages of completeness, not on display | Museum of Aviation, Robbins AFB | Georgia | | Nose section |
| 44-62139 | B-29A-65-BN | Command Decision | Partial | Fuselage sections on public display | USAF Museum in Wright-Patterson AFB | Ohio | Inventory | Forward fuselage painted to represent 44-87657 |
| 42-24791 | B-29-50-BW | | Partial | Various stages of completeness, not on display | In storage in Maryland for QuestMasters Online Museum. | Maryland | China Lake | Nose section: The Big Time Operator; tail gunner's compartment in private collection in California |
| 44-70102 | B-29-75-BW | Here's Hopin | Partial | Various stages of completeness, not on display | In storage at the Naval Museum of Armament and Technology in China Lake, Ridgecrest | California | China Lake | |
| 44-84084 | | | Partial | Various stages of completeness, not on display | In storage at Borrego Springs, California, for Kermit Weeks. | California | Dugway PG | |
| 42-94052 | | | Partial | Various stages of completeness, not on display | On the range at Dugway Proving Ground | Utah | | Forward fuselage |
| 44-62112 | | | Partial | Various stages of completeness, not on display | Pima Air and Space Museum in Tucson | Arizona | | |
| 45-21768 | B-29-95-BW | Kee Bird | Partial | Not easily accesible | Greenland Ice Cap Fairbanks | Greenland | Inventory | |
| 44-62214 | B-29A-70-BN | Lady in the Lake | Partial | Not easily accesible | Eielson AFB in Fairbanks | Alaska | Inventory | Also identified as 44-83905 |
| 45-21847 | B-29-100-BW | Beetle Bomb | Partial | Not easily accesible | Lake Mead | Nevada | Inventory | |
Further reading
Bibliography
Superfortress, the Boeing B-29 (Aircraft Specials series 6028) by Steve Birdsall
Hidden Warbirds: The Epic Stories of Finding, Recovering, and Rebuilding WWII's Lost by Nicholas A. Veronico
Boeing B-29 Superfortress Manual 1942-60 (all marks): An insight into the design, operation, maintenance, and restoration of the USA's giant long-range heavy bomber (Owners' Workshop Manual) by Chris Howlett