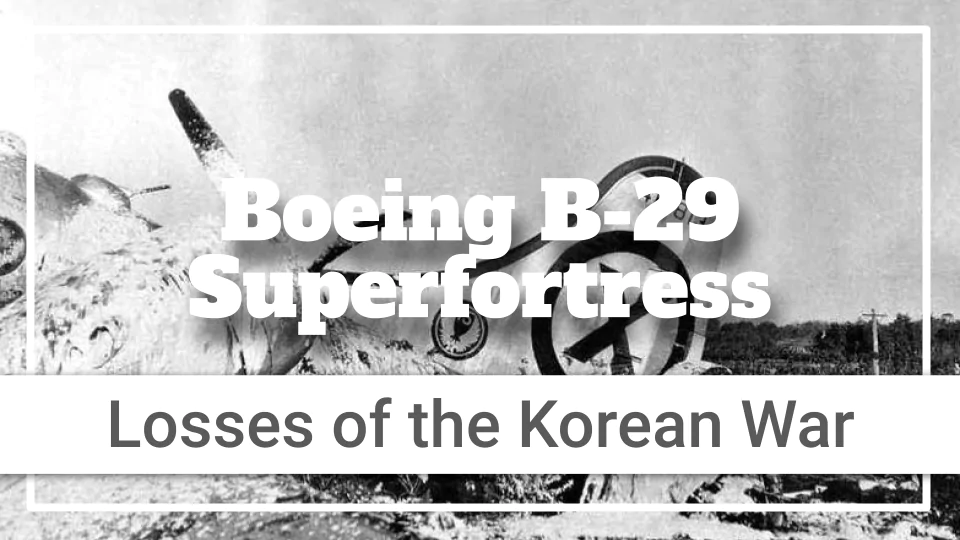 Officially, 34 B-29s were lost during the Korean War: 16 were destroyed by fighter aircraft, 14 by other causes, and four by anti-aircraft weapons.
The B-29 bombers performed 21,000 missions, dropped 167,000 tons of bombs, and only took 26 days off from combat throughout the conflict.
On the other hand, the gunners of the B-29 claimed to have shot down 27 enemy aircraft, 16 of which were MiG-15s, in addition to possibly shooting down another 17 and damaging 11 MiG-15s.
The following is a list of known 80 B-29 lost in Korea using the KORWALD Report and Robert A. Mann material:
Serial NO
Date
Unit
Cause
Aircraft name
Comment
42-65306
1951-10-02
FE/
19BG/
28BS
Operational loss
The Outlaw
Crashed on takeoff for test flight at Kadena AFB, Okinawa. One of four planes flying first B-29 mission of Korean Conflict June 27, 1950
42-65353
1950-10-05
SAC/
98BW
Operational loss
Unnamed
Engine fire, crew abandoned 10 miles west of Wakamatsu.
42-65357
1953-01-29
FE/
19BG/
28BS
Combat loss
Double or Nothin'
Last B-29 of Korean Conflict shot down over Korea. Lost at Mong Yang. Downed by MiGs at night 10-12 mi S of Pyongyang (18 mi E of Sariwon). Plane originally was Shady Lady of 98BG. Damaged in June 1951, returned to U.S. for overhaul, sent back to 19BG.
42-65369
1951-04-06
FE/
19BG/
93BS
Operational loss
Black Sheep
Crashed, burned off runway at Kadena, Okinawa. Gear failed.
42-93974
1952-11-09
SAC/
98BW/
343BS
Combat loss
Bigham
Night leaflet dropping mission, hit by AAA near Chongju, crew bailed out over Paengnyongdo, SAR effort conducted
42-94045
1951-10-23
SAC/
307BW/
371BS
Combat loss
Unnamed
Shot down by Lt. Col Aleksandr P. Smorchkov at Namsi, North Korea at 0920L, last seen in a tight spiral, 3rd ARSq SA-16 Dumbos participated in SAR effort, a total of approx 233 SAR missions flown, surface vessels impeded by rough seas
42-94072
1950-09-08
SAC/
307BW/
371BS
Operational loss
Unnamed
Crashed into East China Sea 5 mi off Okinawa in 200 ft of water, extensive SAR effort conducted
44-27262
1953-01-23
SAC/
307BG
Unknown
Unnamed
Crashed near Tom-Ni, North Korea, 10 crew members bailed out successfully
44-27288
1950-09-10
FE/
19BG/
28BS
Combat loss
Atomic Tom
Major battle damage
44-27326
1951-09-13
SAC/
98BW
Operational loss
United Notions
Crashed into mountain near Taeam-dong, approx 3.5 mi NE of K-2 (Taegu)
44-27332
Unknown
SAC/
92BW
Unknown
Unknown
Unknown
44-61617
1950-10-26
SAC/
92BG/
327BS
Unknown
Nipp-on-Nees
Loss due to unknown causes
44-61656
1951-10-22
FE/
19BG/
30BS
Combat loss
Cream of the Crop
Shot down by Lt. Col Aleksandr P. Smorchkov at 1517L. No. 1 engine and hydraulic system knocked out. Crew bailed out over Yellow Sea, 3rd ARS rescue, all rescued.
44-61693
1952-05-05
FE/
19BG/
30BS
Unknown
Unnamed
Circumstances unknown.
44-61749
1951-12-13
FE/
19BG/
30BS
Operational loss
Southern Comfort
Operational loss, not due to enemy action, salvaged at Itazuke.
44-61751
1952-10-31
FE/
19BG/
93BS
Operational loss
Lubricating Lady
Ditched nine miles northwest of Kadena, Okinawa in North China Sea during a typhoon. Symbolically, the Halloween ditching occurred at 11:59 PM. Extensive SAR effort, three survivors
44-61776
1952-04-01
SAC/
98BW/
343BS
Operational loss
Lost Nr. 1 & 4 engines enroute to secondary target, successful bail-out approx. 3 mi N of Kansong.
44-61802
1953-01-10
SAC/
307BW/
372BS
Combat loss
Unnamed
MiG damage in Yalu area, crew bailed out, aircraft may have crashed into water
44-61810
1952-06-13
SAC/
555SRW
Combat loss
Ichiban
Shot down near Hokkaido Island by Soviet pilots Fedotov and Proskurin.
44-61813
1950-11-09
FE/
55SRW/
91SRS
Combat loss
Over Exposed
The F-13A, on a recon mission over Sinuiju, became the first B-29 to encounter MIG's. Damaged by gunfire, 813 crashed just short of Johnson AB, Japan as a result of attack.
44-61815
1952-10-07
SAC/
5RCN/
91SRS
Combat loss
Moon's Moonbeam/
Diajobu
Shot down on Ferret mission off Kurile islands by Russian LA-11.
44-61835
1952-10-31
FE/
19BG/
30BS
Operational loss
Dragon Lady
Exploded, crashed 15 minutes after takeoff from Kadena.. No. 3 engine on fire, right wing blown off, crashed 40 mi N of Kadena AB (Izena-shima)
44-61867
Unknown
Unknown
Unknown
Unknown
Unknown
44-61872
1952-04-22
SAC/
98BW
Combat loss
Ace in the Hole
Damaged by AAA during raid against Sinanju, crash landed at K-14. KORWALD
44-61908
1952-02-01
SAC/
307BW
Operational loss
Unnamed
Mid-air collision with 44-86392, crashed into the sea 5 mi off Bolo Point, Okinawa, SAR effort negative
44-61923
1950-07-13
SAC/
92BW/
325BS
Operational loss
Hoxie's Hoax
Tail code Circle W. Bomb salvo explosion, crashed near Dogo Island, Japan. Five crewmembers successfully bailed out and were rescued
44-61932
1952-10-24
SAC/
98BW/
343BS
Combat loss
Our Girl
Shot down over Wonsan Harbor by Lt. Col Aleksandr P. Smorchkov. Crew bailed out over Wonsan Harbor near Tri-yom-do, US Navy aircraft flew RESCAP over the crew, small craft and destroyers rescued seven members of the 11-man crew
44-61940
1951-10-23
SAC/
307BW/
372BS
Combat loss
Unnamed
Damaged by MiGs near Namsi airfield, crashed 6 mi off coast of Chinnampo, 3rd ARSq SA-16 Dumbos participated in SAR effort, a total of approx 233 SAR missions flown, surface vessels impeded by rough seas
44-61967
1952-06-10
FE/
19BG/
30BS
Combat loss
Miss Jackie the Rebel
Reported hit by flak near bridge at Kwakson, North Korea, last contact at 101315Z. Evidence indicates MIG shootdown of the damaged plane.
44-62011
1952-12-30
FE/
19BG/
28BS
Combat loss
Unnamed
Shot down by MiGs (night fighters) 25 miles north of Pyongyang.
44-62071
1950-10-27
FE/
19BG/
30BS
Operational loss
Not Known If Named.
Crash landed at K-14, Kimpo Air Base, Seoul. Salvaged.
44-62073
1952-11-08
SAC/
307BW/
370BS
Combat loss
Unnamed
Shot down on night bombing mission
44-62083
1952-01-31
SAC/
307BW/
372BS
Operational loss
Unnamed
Departed Kadena AB on routine combat mission, last contact at 302154L 100 mi N. of Kadena AB. Circumstances unknown.
44-62084
1950-09-09
SAC/
92BG/
325BS
Combat loss
Unnamed
Hit by AAA, exploded in mid-air near Wolbong-ni, 5 parachutes cleared the aircraft
44-62102
1952-11-19
SAC/
98BW
Combat loss
"Wright's Delight"
Shot down Cho-Do Island, North Korea
44-62108
1951-04-10
SAC/
98BW/
343BS
Operational loss
Myakinas
Night intruder mission against Sinanju/Kunu-ri, two engines out, crash landed at Taegu AB, total loss due to battle damage
44-62111
1951-12-18
SAC/
92BW
Unknown
Unnamed
Tail code Circle. Surveyed at Yokota for unknown reason.
44-62152
1950-11-15
FE/
19BG/
93BS
Operational loss
Stateside Reject
Crashed on takeoff from Kadena, surveyed 12/19/50.
44-62166
1952-07-22
FE/
19BG/
93BS
Operational loss
Fujigmo
On test flight eyewitness reports "...they shut down #1 engine inflight ... copilot was making the landing, came in high and hot and AC took control too late. Got behind the power curve on three engines, and airplane did a slow banking turn into the weak side and cartwheeled in the infield. Luckily there were survivors.". Crashed NE of Ocho-o, South Korea (midway between K-3 and K-18)
44-62167
1952-08-30
SAC/
98BW/
344BS
Operational loss
Bust in the Blue
Missed approach, attempted to go around, crashed 4 mi NE of Taegu(K-2), SK near village of Sangdaegok-tong
44-62183
1952-06-10
FE/
19BG/
28BS
Combat loss
Hot to Go
Night msn, downed by MiG using rockets, exploded in mid-air near Kwaksan, NK. Karelin Soviet pilot.
44-62211
Unknown
SAC/
92BW
Unknown
Unknown
Unknown
44-62217
1953-01-13
SAC/
55SRW/
91SRS
Combat loss
Unnamed
Shot down by Dobrovichan during leaflet drop mission, Mayday at 122316L
44-62252
1951-04-12
SAC/
307BW/
371BS
Combat loss
Unnamed
Tail section damaged by MiGs while attacking Sinuiju RR bridge across Yalu, crashed into hill near Suwon (10 mi S of Seoul). Salvaged 5/14/52
44-62279
1950-10-19
SAC/
22BG/
33BS
Operational loss
Unnamed
Engine fire on takeoff, crashed in sea.
44-69682
1951-04-12
FE/
19BG/
93BS
Combat loss
Atomic Tom
Attacked by MIGs. No. 2 engine and then entire wing caught fire, exploded, crashed into mountain, tail gunner of B-29 6323 observed crash, no parachutes observedsurveyed 5/14/51. Tom was one of four planes flying first B-29 mission of Korean Conflict June 27, 1950.
44-69802
1952-09-13
FE/
19BG/
28BS
Operational loss
Bait Me?
Iced up, stalled and crashed 21 miles southwest of Kangnung, South Korea( near Hyolchon-ni). 11KIA, three survivors.
44-69803
1952-02-28
SAC/
98BW/
344BS
Operational loss
Loaded 'Leven
Engine problems, most of crew bailed out in extreme NE corner of the Punchbowl, VMO-6 SAR effort
44-69817
1951-05-02
FE/
19BG/
28BS
Operational loss
Hot to Go (2nd)
Ramp accident 2/5/51. Surveyed this date.
44-69818
1953-07-07
FE/
19BG/
28BS
Operational loss
Star Duster,
Originally
Rough Roman
On tactical mission, poor weather at recovery airfields, low on fuel, crashed during landing approach at K-3 (Pohang)
44-69866
1950-07-12
FE/
19BG/
28BS
Combat loss
Unnamed
Damaged by three Yak-9s near Seoul, engine fire, crew bailed out at 1520L
44-70042
1951-12-18
FE/
19BG/
28BS
Unknown
Lemon Drop Kid
Circumstances unknown
44-70151
1951-10-23
SAC/
307BW/
370BS
Combat loss
Unnamed
Shot up by D'Yachenko at Namsi Airfield, crew bailed out in Chinnampo/Inchon area (Yellow Sea), 3rd ARSq SA-16 Dumbos participated in SAR effort, approx 233 SAR missions flown, surface vessels impeded by rough seas

44-86247
1952-11-18
SAC/
98BW/
344BS
Operational loss
M P I
Crashed on takeoff at Yokota. Crew survived, eleven firefighters killed.
44-86256
1950-10-17
SAC/
22BG/
717BS
Unknown
Unnamed
Surveyed, reason unknown.
44-86268
1951-04-07
SAC/
307BW/
371BS
Combat loss
Unnamed
Combat mission over N. Korea, F-84s escorting, damaged by 2 MiG-15s, two engines out, pilot ordered bail out, crashed into the water 4 mi off NW N. Korea, 7 fighter aircraft and 3 SAR aircraft participated in SAR effort, one crewman rescued .Surveyed 5/14/51
44-86273
1951-10-14
SAC/
98BG
Operational loss
Lil Darlin
Returning from combat msn, 1 engine out, crash landed at Yokota AB, hit Bowling Alley and Laundry.
44-86280
Unknown
Unknown
Unknown
Unknown
Unknown
44-86284
Unknown
SAC/
98BW/
343BS
Unknown
Down's Clowns
Unknown
44-86295
1951-10-23
FE/
307BG/
372BS
Operational loss
"B Flight."
Damaged by MiGs, landed at Kimpo AB (K-14). Badly damaged, transferred to Depot for disposition. Depot repaired, returned to duty. Next assignment unknown.
44-86327
1951-06-01
SAC/
98BW/
343BS
Combat loss
Unnamed
Shot down Kwakson by Yegeny Mikhailovich Stelmah (18th GIAP/303rd IAD).No. 3 engine on fire, 4 parachutes observed by crew of B-29 6272, 4 flights of 4 18th FBGp F-51s conducted SAR effort, negative results (F-51D-Capt Moore-shot down). Surveyed 7/14/51.

44-86328
1950-09-15
FE/
19BG/
28BS
Operational loss
Unnamed
Major accident/crash on takeoff at Kadena. Surveyed 10/4/50.
44-86330
1951-12-18
FE/
98BG/
343BS
Combat loss
Ape Ship
Tail code Square H. Shot down, location unknown.
44-86343
1952-09-13
SAC/
307BW/
371BS
Combat loss
Unnamed
Hit by AAA and exploded in mid-air over Suiho Hydroelectric Plant
44-86357
1951-08-25
SAC/
307BW/
372BS
Combat loss
Unnamed
Hit by AAA near Sunchon, crew bailed out, aircraft exploded 11 miles W of Sunan, NK, (between Sunan and Kowan-ni)
44-86370
1951-04-12
FE/
19BG/
93BS
Combat loss
Lucky Dog/
Fujigmo
Damaged during MiG attack, No. 1 engine caught fire, ditched, debris and oil slick found, no parachutes observed, extensive SAR effort negative. Also one of four planes flying first B-29 mission of Korean Conflict June 27, 1950.

44-86371
1951-05-07
SAC/
98BW/
345BS
Combat loss
Unnamed
Hit by AAA over Pyongyang, damaged No. 3 & 4 engines hit which possibly caused explosion, lost wing, 4-5 chutes observed, Navy SA-16 and USS Bataan fighter aircraft conducted SAR effort with negative results
44-86392
1952-11-19
SAC/
98BW/
354BS
Combat loss
Wright's Delights/
The Chosen Few
Shot down Ch'o Do Island, North Korea. Crashed 5 miles north of Ch'o Do Island.
44-86400
1952-03-31
SAC/
98BG/
344BS
Operational loss
Big Gass Bird/
Chotto Mate
Four minutes after take-off, struck a small hill near village of Daimon, 6 mi NW of Yokota AB, Japan and burned
44-86414
Unknown
Unknown
Unknown
Unknown
Unknown
44-86415
1951-09-19
SAC/
98BW/
343BS
Operational loss
Squeeze Play/
Miss Mi-Nookie/
Destination Known
On leaflet dropping mission, ditched in Sea of Japan, extensive air and surface SAR effort negative
44-86436
1951-06-20
SAC/
98BW/
343BS
Combat loss
Unknown
Flying in three-ship formation, left wing damaged by AAA approx 3 mi S of Hwangju.
44-87618
1951-04-12
FE/
19BG/
30BS
Operational loss
No Sweat
Heavy battle damage due to AAA and MiG-15s, damage included No. 2 & 4 engines out, hydraulic system shot out, crash landed at Seoul Municipal Airport, salvaged, no personnel losses
44-87734
1952-01-23
FE/
19BG/
93BS
Operational loss
Double Whammy
With engine out and unable to feather prop, notified Air Group Command they were aborting and going to K- 14. Crashed N of Chinnampo. Following search found no trace of plane or crew. Another of the four planes that flew first B-29 mission of Korean Conflict.

45-21721
1952-02-07
SAC/
98BW/
345BS
Operational loss
Tail Wind/
Burk's Jerks/
Sweet Judy II
Crashed in a snow storm five miles north of base after takeoff from Yokota. All 13 aboard were killed.
45-21725
1951-04-06
SAC/
307BW/
370BS
Operational loss
Unnamed
Crash landed at Naha AB, Okinawa in bad weather after combat mission over Korea on March 29. Surveyed April 6
45-21745
1952-02-14
FE/
19BG/
30BS
Unknown
Lucifer
Surveyed, circumstances unknown. Modified to carry Tarzon bomb
45-21749
1951-03-29
FE/
19BG/
93BS
Operational loss
Unnamed
Two engines out after explosion, apparently from a Tarzon bomb salvo, crashed over E. China Sea NW of Okinawa. Col Payne Jennings, Group Commander, aboard. 2rd ARS Sq, Flight C participated in SAR effort, results negative
45-21814
1950-11-10
SAC/
307BW/
371BS
Combat loss
Unnamed
Attacked by 6 MiG-15s, downed by MiG - 7 mi SW of Kusong, NK, wreckage sighted
45-21822
1952-01-29
SAC/
98BW/
344BS
Operational loss
Heavenly Laden
Engine fire, crashed in Tokyo area near Yokohama, 5 mi W of Yokosuka, crew bailed out successfully
Further reading
Bibliography and source
The B-29 Superfortress: A Comprehensive Registry of the Planes and Their Missions

by Robert A. Mann

The B-29 Superfortress Chronology, 1934–1960 by

Robert A. Mann

Korean War Air Loss (KORWALD) Report by Defense POW/MIA Accounting Agency