During World War 2, the production of the B-29 aircraft was one of the most complex and diverse manufacturing projects undertaken in the United States.
The project was executed through the coordination of thousands of subcontractors who supplied various components or assemblies to the four main production plants: Boeing operated these plants in Renton, Washington, and Wichita, Kansas, Glenn L. Martin in Omaha, Nebraska, and Bell in Marietta, Georgia.
In contrast, the B-24 aircraft relied on a significantly smaller number of subcontractors, with as many as 100 firms involved in its production, some of whom also utilized additional subcontractors.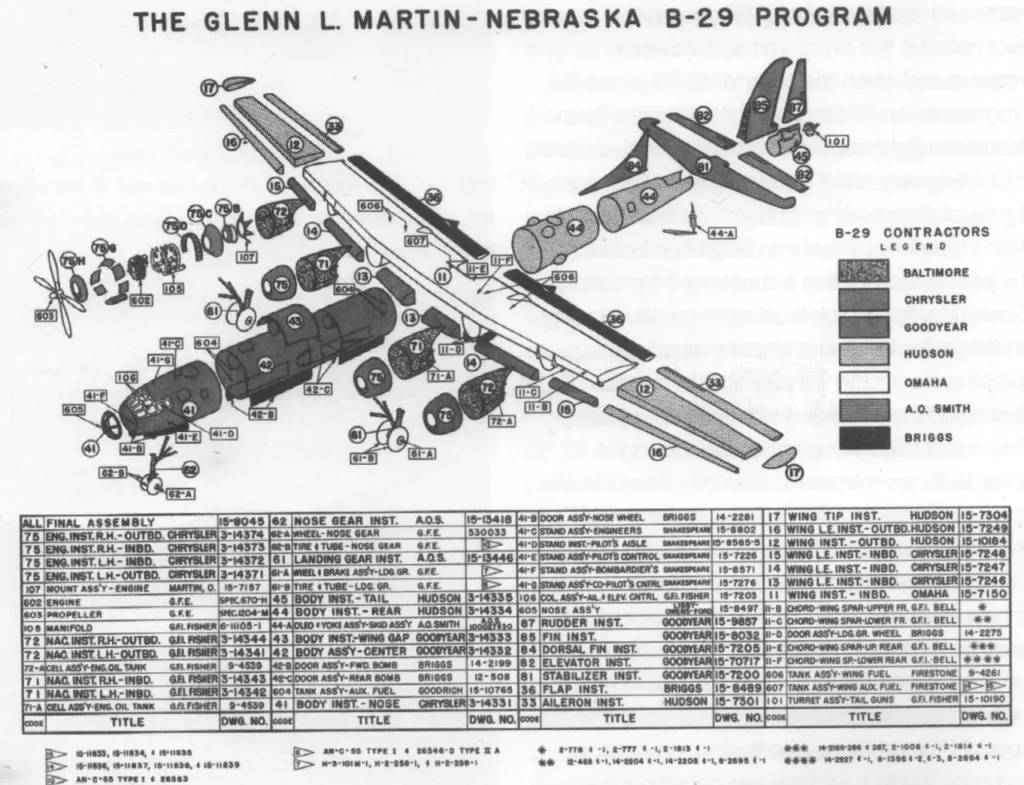 The following is an incomplete list of the B-29 subcontractors during World War 2:
Name
Location
U.S. State
Product
Comments
Acme Chromium Plating Co.
New Haven
Connecticut
Studs for R-3350 engines
Acme Oil Burner Co.
Cedar Rapids
Indiana
Fuel Injector Valves
Acme Wire Company
New Haven
Connecticut
Magnetic wire & coil windings for ignition
AiResearch Manufacturing Co.
Phoenix
Arizona
Cabin pressure valves
Exit flap control systems
Airplane Products Inc.
Joliet
Illinois
B-29s parts
American Can. Co.
Portland
Oregon
B-29 parts
American Screw Co.
Providence
Rhode Island
B-29 components
American Screw Prods.
Newark
New Jersey
R-3350 engine injectors Fuses
Andover Motors Co.
Elmira
New York
B-29 Aux. Motor
Apex Tool Co.
Bridgeport
Connecticut
B-29 parts
Atwood Vacuum Machine Co.
Rockford
Illinois
Ammunition bomb lugs
B.B Jensvold
Olympia
Washington
B-29 tunnels
Bailey Machine Co.
Plainville
Connecticut
Aluminum plugs, body lead, contacts & ferrule
Baldwin Co.
Cincinnati
Ohio
Wing tips
Ailerons
Ballard Plastics Corp.
Seattle
Washington
Molded plastics items
Barco Mfg. Company
Chicago
Illinois
B-29 Parts, Flexible Joints
Bead Chain Mfg. Co.
Bridgeport
Connecticut
Radar parts
Bechtel-McCone Corp.
Birmingham
Alabama
Airplane modification
U.S. Government Modification Center No. 14
Bell Aircraft Corp.
Marietta
Georgia
Completed B-29
U.S. Government Assembly Plant No. 6.
Bell produced 663 B-29s in Marietta
Bell Machine. Co.
Philadelphia
Pennsylvania
B-29s Pilot Control
Benk Machine Shop
St. Paul
Minnesota
Bomb Rack Parts
Berco Manufacturing Co.
Chicago
Illinois
Landing gears
Bethel Machine Co.
Danbury
Connecticut
R-3350 engine parts
Biekford & Carrier Company
Greenfield
Massachusetts
Control Valve, Gas Inj.
Blacher Bros.
Providence
Rhode Island
B-29 components
Boeing Airplane Co.
Wichita
Kansas
Completed B-29
Boeing produced 1630 B-29s in Wichita
Boeing Airplane Co., Boeing Aircraft Co. Division
Renton
Washington
Completed B-29
Boeing produced 1119 B-29s in Renton
Boeing Airplane Co., Boeing Aircraft Co. Division
Tacoma
Washington
Sub-assemblies
Boeing Airplane Co., Boeing Aircraft Co. Division Branch Plant #681
Aberdeen
Washington
fuselage frame, wing rib assemblies
Boeing Airplane Co., Boeing Aircraft Co. Division Branch Plant #682
Everett
Washington
B-29 parts
Boeing Airplane Co., Boeing Aircraft Co. Division Branch Plant #683
Bellingham
Washington
B-29 parts
Boeing Airplane Co., Boeing Aircraft Co. Division Branch Plant #685
Chehalis
Washington
B-29 parts
Boeing Airplane Co., Boeing Aircraft Co. Division Branch Plant #687
Everett
Washington
B-29 parts
Boeing Airplane Co., Boeing Aircraft Co. Division Branch Plant #689
Hoquiam
Washington
fuselage frame, wing rib assemblies
Boeing Airplane Co., Boeing Aircraft Co. Division Plant #2
Seattle
Washington
Completed B-29
Bowser & Co. , Ino of Wayne Pump Co.
Fort Wayne
Indiana
Drive assemblies
Bowser, Inc.
Fort Wayne
Indiana
B-29 parts
Bowser, Inc.
Chelsea
Michigan
Gears for B-29
Bridgeport Safety Emery Wheel Co.
Bridgeport
Connecticut
Clutch facings
Bridgetport Thermostat Co.
Bridgeport
Connecticut
Assembly Oil Strainer R-3350 engine
Briggs Manufacturing Co.
Detroit
Michigan
Flaps
Aft bomb doors
Forward bomb doors
Nose wheel doors
Dorsal fins and stabilizers
Empennage and outboard wing
Cahpman Machine Co.
Terryville
Connecticut
Auto screw products
Car-Max Mfg. Co.
Minneapolis
Minnesota
R-3350 engine parts
Castle Metal Products Co.
Stamford
Connecticut
Super Charge parts
Century Engineering Co.
Cedar Rapids
Indiana
Bomb fuses and B-29 parts
Cessna Aircraft Co.
Wichita
Kansas
Sub-assemblies
Cessna Aircraft Co., Engineering Co. Division
Wichita
Kansas
Sub-assemblies
Char-Lynn Co.
Minneapolis
Minnesota
Bomb sight parts
Chowning Regulator Corp.
Corning
New York
B-29 Aux. Motor
Chrysler Corp., Airtemp Division
Dayton
Ohio
AC Parts
Chrysler Corp., DeSoto Plant

Detroit
Michigan
Nose and center fuselage
Engine cowlings
Nose pressure cabins
Chrysler Corp., Dodge - Chicago Plant
Chicago
Illinois
R-3350 engines
Chrysler Corp., Highland Park Plant
Highland Park
Michigan
Nose and center fuselage
Chrysler Corp., Plymouth Plant
Detroit
Michigan
Nose and center fuselage
City Engineering Co.
Indianapolis
Indiana
B-29 parts
Clyde Porcelain Steel Corp.
Clyde
Ohio
Turret parts
Columbia Mech. & Eng. Corp.
Hamilton
California
Parts for B-29 Clutches
Columbus Specialty Co.
Columbus
Indiana
De-icing
Comstook & Co.
Norwalk
Connecticut
Canvas covers
Connecticut Manucfacturing Co.
Waterbury
Connecticut
Screw Mach. prod
Connecticut Telephone & Electric Co.
Meriden
Connecticut
Connector nuts
Constock & Co.
Norwalk
Connecticut
Covers, pads, cords & sleeves
Continental Airlines , Inc., Denver Modification Center
Denver
Colorado
Airplane modification
U.S. Government Modification Center No. 13
Cope Brothers, Inc.
Farmington
Connecticut
Component parts
Corbin Screw Corp.
New Britain
Connecticut
Padlocks, etc
Cornelius Co.
Minneapolis
Minnesota
Motor Compressors
Crosley Corporation Plant 2
Cincinnati
Ohio
APB-4 Radar, SCH-694 Components
Curtis Wright Corp
Stamford
Connecticut
Propellers B-29 LVT Drive
Curtiss - Wright Corp.
Stamford
Connecticut
Pitch regulator for propeller
Curtiss - Wright Corp., Wright Aeronautical Corp. Division
Paterson
New Jersey
R-3350 engines
Curtiss - Wright Corp., Wright Aeronautical Corp. Division
Wood-Ridge
New Jersey
R-3350 engines
D. & N. Machine Co.
East Hartford
Connecticut
Machine parts
Decker Mfg. Co.
Rockford
Illinois
Screw machine parts
Doran Brothers Inc.
Danbury
Connecticut
Gyro assembly
E.W Carpenter Mfg. Co.
Bridgeport
Connecticut
B-29 parts
Eastern Engineering Co.
New Haven
Connecticut
Pumps
Electrolux Corp.
Stamford
Connecticut
Commutator dynamotor for airborne radar & inverters
Eoudreau Machine & Tool Co.
Bridgeport
Connecticut
B-29 parts
Exacta Mfg. Co.
New Haven
Connecticut
Couplings
Excel Tool & Engineering Co.
Evansville
Indiana
B-29 parts
Fibre Forms
Columbia City
Indiana
B-29 Silver Pleated Dashings
Fieldstone Tool & Mach.
Bronx
New York
Component of R-3550
Firestone Tire & Rubber Co.
Ferndale
Washington
Self sealing fuel cells
Fisher Aircraft
Cleveland
Ohio
B-29 components
Fisher Body Co. #1
Cleveland
Ohio
Nacelles & tank parts
Forest Industires
Tacoma
Michigan
Formed plastic parts
Frank Wheeler & Son
Meriden
Connecticut
Valve seat
Frey Mfg. Co.
Hartford
Connecticut
Steel ring
General Aircraft Equipment Corp.
Stamford
Connecticut
B-29 parts
General Armature Corp.
Lock Haven
Pennsylvania
Commutators
General Electric Co.
Schenectady
New York
Fire control sets
General Electric Co.
Bloomfield
New Jersey
Turret interrupters, Turret Synchronisers
General Electric Co.
Everett
Massachusetts
Turbo-super-charger
General Motors Corp., AC Spark Plug Division
Flint
Michigan
Automatic pilots , m-5 ( sperry)
Contract for 1,000 automatic pilots
General Motors Corp., Fisher Body Division
Cleveland
Ohio
Outboard wings, horizontal stabilizers, fins and nacelles
U.S. Government Assembly Plant No. 7. It produced 13,772 B-29 engine nacelles plus 566 nose sections
General Motors Corp., Fisher Body Division
Detroit
Michigan
Sub-assemblies
General Motors Corp., Fisher Body Division
Lansing

Michigan
Engine nacelles
General Motors Corp., Frigidaire Division
Dayton
Ohio
Hamilton propellers
$40 million deal to supply 6,600 Hamilton propellers
General Railway Signal Co.
Rochester
New York
Fire control equipment ( remote control turrets )
By end of war, it manufactured 2,100 remotely-controlled gun turrets.
General Refineries Inc.
Minneapolis
Minnesota
B-29 Parts
Gerber Brothers
Seattle
Washington
Molded oxygen panel, astrocompass bracket, wing liner guide
Glenn Martin L. Co.
Middle River

Maryland
Nacelles
Airplane power turrets
Glenn Martin L. Co.
Omaha
Nebraska
Completed B-29
U.S. Government Assembly Plant No. 1
Martin produced 531 B-29s in Omaha
Glenn Martin L. Co.
Omaha
Nebraska
Airplane modification
U.S. Government Modification Center No. 8
Globe Tool & Die Co.
Southbridge
Massachusetts
Auto. gan charge
Goodrich , B. F. , Co.
Grand Rapids

Michigan
De-icers
Fuel cells
Goodyear Tire & Rubber Co., Goodyear Aircraft Corp. Division
Newark
Ohio
Motor mounts
Goodyear Tire & Rubber Co., Goodyear Aircraft Corp. Division
Akron
Ohio
Fuselage sections and empennage assemblies
Leading edges for the wing elevators
Stabilizers, vertical fins and center sections
Plant C
Grinold Auto Parts, Inc.
Hartford
Connecticut
Bombsight sectors
H & M Corp.
Cambridge
Massachusetts
Gyroscope parts
H. C. Baum Co.
Plainville
Connecticut
Spring fuse
H. Wibling tool & Mfg. Co.
Danbury
Connecticut
Charger parts
Halliburton Oil Well Cementing Co.
Duncan
Oklahoma
B-29 Components
Hardware Specialties Mfg. Co.
Bridgeport
Connecticut
Machine parts
Hartford Mach. Tool, Inc.
Hartford
Connecticut
Trunnion bolts
Harvey Wells Electronics Co.
Southbridge
Massachusetts
Loop antenna, B-29 programs
Henry & Wright Mfg. Co.
Hartford
Connecticut
Screw door assemblies, Nut, drum & screw assem.
Hereshey Metal Products
Derby
Connecticut
B-29 parts
Holtzer Cabot Elec. Co.
Jam Plain
Massachusetts
Inverters
Hoosier Cardinal Corp.
Evansville
Indiana
Bomb racks & Turrets
Horthern L-Ray Co.
Minneapolis
Minnesota
B-29 parts
Hudson Motor Car Co.
Detroit
Michigan
Sub-assemblies
Production of three huge fuselage sections (two of them pressurized)
Outer wings and wing tips
It produced 802 B-29 rear fuselages, bulkheads, outer wing panels and wingtips
Ideal Tool & Machine Co.
Great Bend
Pennsylvania
Jigs, Tools, Dies & Fixtures for B-29 parts
Indian Motocycle Co. Main Plant
Springfield
Massachusetts
Aircraft components
Indianapolis Tool & Die
Indianapolis
Indiana
Comps & Radar part
International Business Machines(IBM) Corp.
Endicott
New York
Sperry bomb sights s-1
Computers
Turrets
Fire control sights for remote control gun turrets
Interstate Mfg. Corp.
New Haven
Connecticut
Aircraft Instrument for B-29
Iron Fireman Mfg. Co.
Portland
Oregon
Fuse, bomb parts
Ittenbach G. Company
Indianapolis
Indiana
Packing boxes for B-29 propellers
Ivanoff Machine Shop
Seattle
Washington
Tools, dies, fixtures, handling equip.
J. C. Barton
East Hampton
Connecticut
Incendiary bomb cavity steel molds
J.A. Otterbein Co.
Middletown
Connecticut
Components for B29s incendiary bombs
Johns-Hartford Tool Co.
Hartford
Connecticut
prop. Eng. studs
Johnson Mfg. Co.
Bridgeport
Connecticut
B-29 parts
Jones & Lamson Machine Co.

Springfield
Vermont
Gear assemblies
Kar Engineering Co.
Great Barrington
Massachusetts
Gun Turret Mechanism
Ken Products Co.
Evansville
Indiana
B-29 parts
Kenworth Motor Truck
Seattle
Washington
Sub-assembly work, wheel well assembly, navigators floor
Korry Manufacturing Co.
Seattle
Washington
Cabin & instrument lamps
Landers, Frary and Clark
New Britain
Connecticut
Motor coils
Lawson Machine & Tool Co.
Malden
Massachusetts
R-3350 engine parts
Lee Company
Hartford
Connecticut
Screw mach. prod & eng. studs
Libbey-Owens-Ford Glass Co.
Ottawa
Illinois
Canopies and cabin
noses
Linotype Parts Co.
Weatherly
Pennsylvania
B-29 Propeller Spring Pack Retainers
Luminous Engineering Co.
Boston
Massachusetts
Instrument dials
Lyle Sign Co.
Minneapolis
Minnesota
Sub-assemblies
Lynch Brothers
Pine Meadow
Connecticut
Filter B-29 motors
Macallen Co.
South Boston
Massachusetts
Mica Parts
Mamco Manufacturing Co.
Seattle
Washington
Molded & cut phenolic parts, electrical panels, fair leads, etc
Manning Bowman Co.
Meriden
Connecticut
Vibrator parts & air speed tubes
Manson Mfg. Co.
Boston
Massachusetts
R-3350 engine studs
Max Ams Machine Co.
Bridgeport
Connecticut
B-29 parts
McClintock, O.B. Co.
Minneapolis
Minnesota
Cowl Flap Actuator
McDonnell Aircraft Corp.
Memphis
Tennessee
Sub-Assembly
McDonnell Aircraft Corp.
St. Louis
Missouri
Fuselage sections
Medoo Mfg. Co.
New York City
New York
Tuning units for Radio receivers
Mers Engineering Co.
Indianapolis
Indiana
B-29 parts
Metallurgical Serv. Co.
Indianapolis
Indiana
Salvage operation on fuel cells
Metropilis Bending Co.
Metropilis
Illinois
Wood parts
Minnetonka Machine Works
Minneapolis
Minnesota
Press Parts
Moore Drop Forging Co.
Springfield
Massachusetts
Hdwe. & Mountings
Moudings Inc.
Indianapolis
Indiana
B-29 parts
Murray Corp. of America
Ecorse
Michigan
Outer wings
Murray Corp. of America
Scranton
Pennsylvania
Wing, Wing Tip & Aileron Assembly
500,000-square-foot plant
National Bronce & Aluminum Co.
Springfield
Massachusetts
Castings
New england Caroide Tool Co.
Cambridge
Massachusetts
Carbide & Diamond tipped cutting tools
Northwest Chair Co.
Tacoma
Washington
Wood assemblies
Northwest Metal Products Co.
Kent
Washington
AN hose clamps
Norton Heon Co.
Denver
Colorado
Parts for B-29
Nutmeg Tool Co.
Glastonbury
Connecticut
Prec. tools
O.B. McClintock Co.
Minneapolis
Minnesota
Cowl flap actuator
Olson Brothers
Plainville
Connecticut
B-29 parts
Pacific Car & Foundry
Renton
Washington
Inboard wing spars
Parkadale Army Air Field
Shreveport
Louisiana
Maintenance & repair of B-29
Peaslee Metal Products
East Hartford
Connecticut
Centerless grinding studs
Perkin Elner Corp.
Stamford
Connecticut
Lenses
Pitney Bowes Postage Meter Co.
Stamford
Connecticut
B-29 Parts
Plastics Manufacturers, Inc.
Stamford
Connecticut
Gun grips
Plymouth Electric Co.
New Haven
Connecticut
Gyro compass parts
Pottstown Mfg. Company
Pottstown
Pennsylvania
B-29 parts
Precision Grinding, Inc.
Westbury, L. I.
New York
Parts for B-29
Precision Product Co.
Waltham
Massachusetts
Hair Springs
Puget Sound Sheet Metal Plant #2
Seattle
Washington
Aircraft fabrication for B-29s
Puget Sound Sheet Metal Plt. #2
Seattle
Washington
Aft. body section, inboard ing leading edge sections, spare parts & sub-assemblies
R. Bemont & Son.
Meriden
Connecticut
Anemostat cap, mics, pts
Ravenna Metal Products Co.
Seattle
Washington
Drill bushings, special bolts, machined parts
Republic Aviation Corp.
Evansville
Indiana
Cowling
Reynolds Metals Co.
Springfield
Massachusetts
Castings
Rogers, Lunt & Bowlen Co.
Greenfield
Massachusetts
Gas Injection
Ruggles Lumber Co.
Kingston
Pennsylvania
Bomber Wing crates
Savage Metal Products Co.
Seattle
Washington
Small machine work, pins, bushings, etc
Scott-Atwater Mfg. Co.
Minneapolis
Minnesota
Sub-assemblies
Seeger Refrigerator Co.
St. Paul
Minnesota
Bomb racks
Seidelbuber Iron & Bronze
Seattle
Washington
Special service tools, ground handling equipo for B-29
Sessions Clock Co.
Forestville
Connecticut
Exhaust manifold & press parts
Seth thomas Clock Co.
Thomaston
Connecticut
B-29 devicer
Singer Mfg. Co.
Elizabeth
New Jersey
Sighting Stations
Smith , A. O. , Corp
Milwaukee
Wisconsin
Landing gears
Solar Aircraft Co.
Des Moines
Iowa
Manifolds
Spring Services Co.
Scranton
Pennsylvania
Heat treating tank end connectors
Wing Reinforcing brackets
Springfield Bronse & Aluminum Co.
Springfield
Massachusetts
Castings
Stearman Aviation, Inc.
Enid
Oklahoma
B-29 component land
Steel Products Co.
Danbury
Connecticut
B-29 parts
Stolle Corporation
Sidney
Ohio
Machining Assembly Devices
Storm Drop Forging Co.
Springfield
Massachusetts
Gas Injection Parts
Sulak Manufacturing Co.
Seattle
Washington
Aircraft parts
Textile Machine Works
Reading
Pennsylvania
Turret drives
The Chas. B. Scott Co.
Scranton
Pennsylvania
Machining Wing parts
The George S. Scott Mfg. Co.
Wellingford
Connecticut
Rockerbox cover gasket
The Todd Company
Rochester
New York
B-29 Parts
Thomaston Special Tool Co
Thomaston
Connecticut
Cam shafts, dust shields, shim washers
Thompson Bros. Pattern Works
Indianapolis
Indiana
Patterns
Thompson Candy Co.
Meriden
Connecticut
Heavy artillery device
Thorne-Brown Co.
Westport
Connecticut
Lamps
Tomlee Tool & Engineering Co.
Minneapolis
Minnesota
Carburator and fuel injection parts
Torrington Co.
Torrington
Connecticut
Needle bearings
Torrington Mfg. Co.
Torrington
Connecticut
Air impellers
Turner & Seymour
Torrington
Connecticut
Parts & Tools
U.S. Textile Machine Co.
Scranton
Pennsylvania
Machining B-29 Bomber parts
U.S. Time Corp.
Waterbury
Connecticut
Mark 1 fuse
United Aircraft Corp., Hamilton Standard Propeller Division
East Hartford
Connecticut
Propellers
Universal Machine Co.
New Britain
Connecticut
Pin stainless steel & plugs
Universal Pattern & Model
Hartford
Connecticut
Patterns
Van Veen Engineering Co.
Hartford
Connecticut
Machines for making nuts % screws
Veeder Root Inc.
Hartford
Connecticut
Round counters, Bendix remote control drive, etc
Vida Mfg. Co.
Clifton
New Jersey
Converter cores
Volco Copper & Brass Co.
Kenilworth
New Jersey
Wire
Voss Bros. Manufacturing Co.
Davenport
Iowa
ALt. & Detector Assys. B-29
W.H. Nichols & Sons
Waltham
Massachusetts
Pumps
Warren Telechron Co.
Ashland
Massachusetts
Gear reduction units fof turrets control computer, Relay for aircraft control
Warren Telechron Co.
Lowell
Massachusetts
Relays
Washington Iron Works
Seattle
Washington
Wing flap tracks, large boring, mill machining
Welded Products Co.
Oklahoma City
Oklahoma
Equipment for production of B-29's
Wesel Mfg. Co.
Scranton
Pennsylvania
Machining B-29 Bomber Parts
Jigs, tool & Fixture or B-29 BOmber parts for Murray Corp.
Wessor Mfg. Co.
Bridgeport
Connecticut
B-29 parts
Western Die Casting
Emeryville
California
Die Castings
Western Gear Works
Seattle
Washington
Gears and machine work
Western Gear Works
Vernon
California
Tail skid Actuators
Western Supplies Co.
St. Louis
Missouri
B-29 parts
Westfield Mfg. Co.
Westfield
Massachusetts
Needle Bearings
White Engineering Works Inc.
Stamford
Connecticut
B-29 parts
Wiley & Lett
Marion
Indiana
B-29 parts
William D. Gibson Co.
Chicago
Illinois
Precision & motor type springs
Wittie Manufacturing & Sales Co.
Chicago
Illinois
Ventilator fans
Yale & Towne Mfg. Co.
Stamford
Connecticut
Radio parts
Further reading
Bibliography
War Industrial facilities Authorized July 1940 – August 1945, Civilian Production Administration Industrial Statistics Division July 30, 1946
Report of War Plants and Services in Urgency Rating Bands III Thru VII. 1945, Office of the Deputy Vice Chairman for Field Production Operations
Boeing B-29 Superfortress Manual 1942-60 (all marks)(Owners' Workshop Manual) by Chris Howlett